SAMMY HAGAR & THE CIRCLE RELEASE "FATHER TIME" THE REFLECTIVE FINAL MUSIC VIDEO FROM THEIR TOP TEN CHARTING NEW ALBUM "CRAZY TIMES"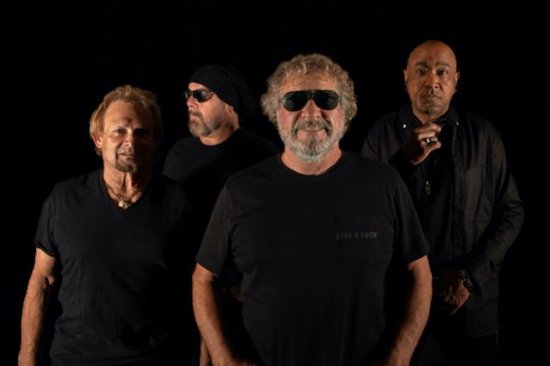 Rock & Roll Hall of Fame®-inducted, Grammy award-winning singer and songwriter Sammy Hagar today released Father Time, the emotionally reflective final music video from his new chart-topping album, Crazy Times, with The Circle. The album, released September 30th, debuted at No. 6 on Billboard's Top Album chart, his second top 10 in the last four years. Hagar, who just celebrated his 75thbirthday, wrote the song as an introspective look back at his life, illuminated in the music video through a collection of his personal photos.
Reflecting on the intense personal nature of the song, Hagar said, "When I first wrote Father Time, I kept it from everyone because it was so personal that I'd get too choked up to actually sing it. I wrote it just after turning 70 while I was at our then home in Maui. That house was my sanctuary in the middle of the jungle, overlooking the ocean– it was just paradise. The words 'Father Time's over there looking over my shoulder' just kept going through my head, so I picked up my guitar and the rest of the song just came spilling out. I turned on my iPhone and recorded it. I cried my eyes out after I wrote and played it back. It's probably the most personal song that I've ever written and now, after just turning 75, I'm finally ready to release it."
The band has released two previous videos, for the album's title track, which can be heard here, and their cover of Elvis Costello and the Attractions', Pump It Up, which can be seen here.
Crazy Times, recorded at Nashville's historic RCA Studio A, is Hagar's 27th studio album and his second recorded with The Circle. Produced by eight-time Grammy-winning producer Dave Cobb, the 10-track album released on September 30th, via UMe on CD and on all digital and streaming platforms here, with the vinyl, including an exclusive translucent red album, following on October 28th and available for pre-order here. In addition to a standard CD, standard LP & digital deluxe, Walmart has an exclusive 2CD edition featuring the album + a bonus disc of Hagar hits, and Target has an exclusive which features two bonus tracks. Nine of the tracks were written or co-written by Hagar, along with the notable cover, Pump It Up, a 1978 song by Elvis Costello and the Attractions. Cobb co-wrote three songs on the album and performed with the band on every track in the process.
Crazy Times track list:

1. Intro: The Beginning Of The End
2. Slow Drain
3. Feed Your Head
4. Pump It Up
5. Be Still
6. You Get What You Pay For
7. Crazy Times
8. Funky Feng Shui (listen here)
9. Father TIime
10. Childhood's End
 
Bonus Tracks (available on the Target deluxe edition CD and via streaming platforms):

11. 2120
12. Father Time – Acoustic