SAMMY HAGAR & THE CIRCLE RELEASE VIDEO FOR NEW SINGLE "PUMP IT UP" FROM THEIR UPCOMING ALBUM "CRAZY TIMES" SET FOR RELEASE SEPTEMBER 30TH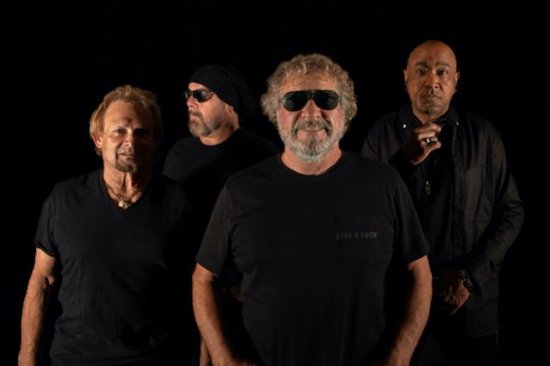 Rock & Roll Hall of Fame®-inducted, Grammy award-winning singer and songwriter Sammy Hagar today debuted the video for Pump it Up, with his Billboard chart-topping supergroup The Circle – watch the official video below. Pump it Up, a cover of Elvis Costello and the Attractions' 1978 classic, was recorded live during a warm-up session, and on the encouragement of the album's producer Dave Cobb, who also plays rhythm guitar on the track, it made the album. Pump it Up is available today on all digital and streaming platforms.  The CD and vinyl configurations, including a translucent red color vinyl exclusive, are available for pre-order here.
Upon the release of the album's title track Crazy Times in July (listen here), Guitar World said, "Front and center we have Hagar's voice, … all syrup and gravel and soul. Stick your best pair of headphones on and listen to the track – you can hear that this choice is money well spent." The album, set for release on September 30th through Ume, finds Hagar, fellow Hall of Famer and longtime bassist Michael Anthony, Grammy-winning drummer Jason Bonham and Grammy-winning guitar virtuoso Vic Johnson changing course, traveling to Nashville's RCA Studio A to record with Cobb. The eight-time Grammy Award-winning producer, who grew up obsessively listening to Hagar, set out to record "the definitive Sammy Hagar record." The new album includes 10 songs, nine of which Hagar wrote or co-wrote, along with the notable cover, Pump It Up. As Hagar explained, "We went in the studio with six songs and came out with 10. We ended up cowriting three songs with Dave Cobb and he played rhythm guitar on every track.  Pump it Up was a surprise, that when we played back we all went 'that sounds f'ing great'."
In support of the album's release, Sammy Hagar & The Circle will headline the Illinois State Fair on August 21st, before returning to their critically acclaimed Crazy Times U.S. tour on August 23rd at Pine Knob Music Theatre in Michigan.  Produced by Live Nation, the tour hits amphitheaters in major cities throughout the U.S. before wrapping on October 1st in Sacramento, CA. Following the tour, Hagar will celebrate his 75th birthday at his annual week of Birthday Bash concerts at his Cabo Wabo Cantina in Cabo San Lucas, Mexico. Visit RedRocker.com for ticket information.
Crazy Times track listing:Intro:
1. The Beginning Of The End
2. Slow Drain
3. Feed Your Head
4. Pump It Up
5.  Be Still
6.  You Get What You Pay For
7.  Crazy Times
8.  Funky Feng Shui
9.  Father Time
10. Childhoods End
Sammy Hagar & The Circle Crazy Times Tour Tour Dates:

8/21/22 Springfield, IL Illinois State Fair
8/23/22  Clarkston, MI  Pine Knob Music Theatre
8/24/22  Cincinnati, OH Riverbend Music Center
8/26/22 Maryland Heights, MO  Hollywood Casino Amphitheatre
8/27/22  Tinley Park, IL Hollywood Casino Amphitheatre
8/29/22 Greenwood Village, CO Fiddler's Green Amphitheatre
8/30/22 Salt Lake City, UT USANA Amphitheatre
9/1/22 Bend, OR Hayden Homes Amphitheater
9/3/22     Ridgefield, WA RV Inn Style Resorts Amphitheater
9/4/22     Auburn, WA White River Amphitheatre
9/7/22      Phoenix, AZ Ak-Chin Pavilion
9/9/22 Mountain View, CA Shoreline Amphitheatre
9/10/22    Irvine, CA Five Point Amphitheatre
9/16/22    Woodlands, TX The Cynthia Woods Mitchell Pavilion
9/17/22.    Irving, TX The Pavilion at Toyota Music Factory
10/1/22     Lincoln, CA Thunder Valley Casino
Sammy Hagar's Annual Birthday Bash In Cabo: 

10/9/22  Cabo Wabo Cantina   Cabo San Lucas, Mexico
10/11/22  Cabo Wabo Cantina   Cabo San Lucas, Mexico
10/13/22  Cabo Wabo Cantina  Cabo San Lucas, Mexico – Sammy's 75th