WHITESNAKE PULL OUT OF THE "ROCK BELIEVER" TOUR, WITH THE SCORPIONS, DUE TO DAVID COVERDALE'S ONGOING UPPER RESPIRATORY INFECTION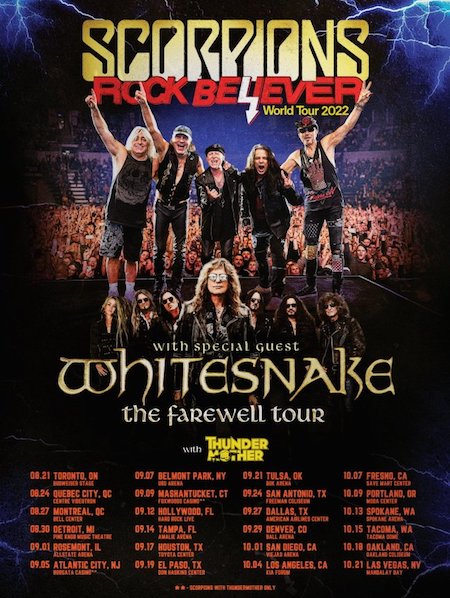 Whitesnake has canceled its previously announced North American tour with the Scorpions due to singer David Coverdale's "continued treatment for a persistent upper respiratory infection."
Scorpions will continue with the scheduled tour, however, support will now come from Swedish band, Thundermother, beginning on August 21st in Toronto, Ontario. See the Scorpions' entire tour itinerary, by clicking here.
On August 5th, Whitesnake frontman Coverdale released the following statement: 
"It is with profound disappointment and a heavy heart that I must announce that Whitesnake will no longer be able to join the Scorpions on their US and Canadian tour due to my continued treatment for a persistent upper respiratory infection that affects my ability to perform. This includes the cancellation of our own headlining shows, as well.
While Whitesnake will no longer be on the tour, the Scorpions will be continuing on. We Wish Our Good Friends, the Scorpions Every Success!!!
We Wish You Well."
Scorpions issued a separate statement stating "We wanted to let you know that Whitesnake will no longer be joining us on our U.S. and Canadian Rock Believer tour.
Nothing is more important than our fans and it was important to us that we keep the shows as scheduled.
We wish Whitesnake all the best and look very much forward to seeing you and rocking with you all on tour along with Thundermother."
In other recent 'Snake news, the band's Greatest Hits collection has been remixed, and remastered, for the 2022 collection. To read further details about this release, please click here.