UGLY KID JOE ANNOUNCE "RAD WINGS OF DESTINY" SPRING TOUR DATES WITH FOZZY AND PISTOLS AT DAWN,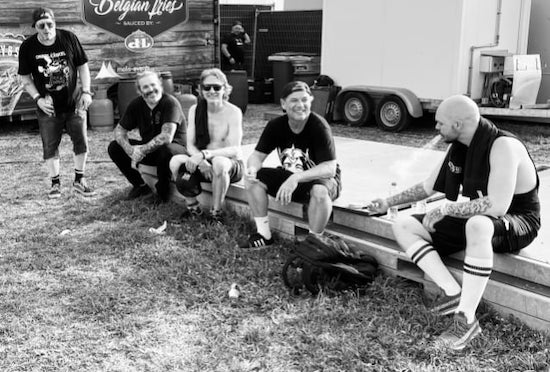 Ugly Kid Joe has announced its first U.S. tour in 27 years. Support on select dates will come from Fozzy, with Pistols At Dawn opening all concerts. Tickets for all shows will go on sale January 20th.
Tour dates:
May:
3 – Brick by Brick, San Diego, CA
4 – The Regent, Los Angeles, CA
5 – Majestic Theater, Ventura, CA
7 – Hard Rock Cafe, Las Vegas, NV
8 – Sunshine Theater, Albuquerque, NM
11 – Rise, Houston, TX
12 – Echo, Dallas, TX
13 – Diamond Ballroom, Oklahoma City, OK
15 – The Truman, Kansas City, MO
16 – Bourbon Theater, Lincoln, NE *
18 – Arcada Theater, St. Charles, IL
19 – Epics Events Center, Green Bay, WI
20 – St Croix Casino, Turtle Lake, WI
21 – Hi Fi Annex, Indianapolis, IN
22 – Rust Belt, Moline, IL
24 – Machine Shop, Flint, MI *
25 – Agora Theater, Cleveland, OH *
26 – Lovedrafts, Mechanicsburg, PA *
27 – Jergels, Pittsburgh, PA *
28 – Tally Ho Theater, Leesburg, VA *
30 – The Ramkat, Winston-Salem, NC *

June:
1 – Centerstage, Atlanta, GA
2 – Yellow Rose Theater, Cottonwood, AL
3 – The Ranch, Fort Myers, FL
4 – Jannus Live, Tampa, FL
5 – Club LA, Destin, FL
7 – House of Blues, New Orleans, LA *
9 – Come and Take It Live, Austin, TX *
10 – Rockbox, San Antonio, TX *
* Ugly Kid Joe and Pistols At Dawn only
Ugly KidJoe is touring in support of its latest studio album, Rad Wings Of Destiny, which came out last October. Listen to AC/DC inspired That Ain't Livin' here, [Dana's note: and what I feel is also AC/DC influenced, and I really like] Failure, here.
Speaking to France's Loud TV (as per blabbermouth.net) about the Rad Wings Of Destiny album title, frontman Whitfield Crane said: "I love Judas Priest. Ugly Kid Joe has a penchant for poking a little humor into the universe — the universe needs a little humor — and also giving respect to things that we love. So we love Judas Priest. We're from California. We say 'rad' all day long. So Rad Wings Of Destiny."
Regarding how first single That Ain't Livin' came together, Crane said, "I wrote the riff in Greece. We worked on the song as a band in Mallorca, Spain. We tracked the song in El Paso, Texas. And then we couldn't finish all the vocals in El Paso. So then I found myself living in Lisbon, Portugal. And I flew to London to meet the producer and I tracked the vocals in London."
Asked if the rest of Rad Wings Of Destiny is musically similar to That Ain't Livin', Whitfield said, "Well, it's hard for me to describe it, 'cause I'm so close to it; I'm really close to it. But yeah, the first track, That Ain't Livin'… Also we love old-school AC/DC; I mean, I love for AC/DC. I wrote the riff for That Ain't Livin' on an island in Greece and I had the riff. And so we wrote that song. And it's really an homage to Powerage'=[-era] AC/DC. So that's that song. But there's nine other songs, and there's a lot of different frequencies that we're embracing."
After a 15-year hiatus, Ugly Kid Joe reformed in 2012 and has toured extensively throughout Europe and the rest of the world.
The band released the EP Stairway To Hell in 2012 and the full-length Uglier Than They Used Ta Be in 2015.