THE WINERY DOGS POST A VIDEO FOR THEIR SONG "I'M NO ANGEL" ONLINE, WATCH IT HERE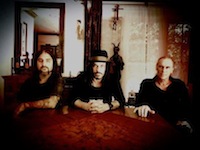 The Winery Dogs, a new project featuring drummer Mike Portnoy (Dream Theater, Adrenaline Mob), bassist Billy Sheehan (Mr. Big, Talas) and guitarist/vocalist Richie Kotzen (Mr. Big, Poison) have posted a video online for their third song I'm No Angel from their forthcoming self titled album. The video can be viewed below.
The Winery Dogs have also released videos for their songs Elevate and Desire.
The band's debut album is set for release on July 23rd through Loud & Proud Records.
Of The Winery Dogs' signing, Mike Portnoy commented, "I am so excited about The Winery Dogs and am proud and honored to be working with two of the greatest musicians on the planet! Richie Kotzen is such an unbelievable talent, as a vocalist, guitarist and songwriter. I think The Winery Dogs will finally get him the attention and recognition that he so richly deserves. And what can be said of Billy Sheehan that hasn't been said already? He is one the true pioneers of the instrument and a legend. I am looking forward to working with the great staff of Loud & Proud Records, some of whom I worked very closely with during their time at Roadrunner and my time with Dream Theater. I look forward to continuing that relationship with The Winery Dogs!"