KIX ENTER THE STUDIO TO BEGIN WORK ON A NEW ALBUM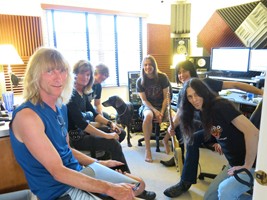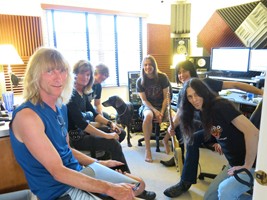 Kix are currently in the studio with producer/songwriter Taylor Rhodes working on pre-production for the band's new studio album, their first since 1995's Show Business.
Last year Kix released the live package Live In Baltimore through Frontiers Records, with frontman Steve Whiteman stating, "This is a great thing for us and we hope it's a great thing for Kix fans all around the world. We are so thrilled to finally be able to give the fans what they have been asking for, a live DVD and new Kix music in 2013! We have been hard at work getting new material together that we think will stand shoulder to shoulder with any previous Kix record. It's a really exciting time!"
Since Kix' return to the national stage in 2008 with appearances at two of the biggest rock festivals in the US, Rocklahoma in Pryor, Oklahoma and Rock The Bayou in Houston, Texas, the band has amassed a large number of successful live shows all across the USA, with regular appearances at festivals, casinos and biker rallys, culminating with headlining the hugely successful M3 Festival in Columbia, Maryland two years in a row.
Last year Whiteman told Sleaze Roxx, "As for the new studio record, we agreed to that for the sake of getting this DVD out — we felt that strongly about it. Funny Money was getting ready to record a new CD so I had a bunch of material lying around. Mark Schenker, our bass player, has a lot of material lying around and Brian Forsythe has some material for use for a new record. Our plan is to combine this music and put 25-30 songs together, throw them in the pot, work on them little by little, and see if we can turn them into Kix songs. If we can get 10-12 strong Kix songs together for an album the fans are going to love — then we'll put it out. We look forward to promoting the new music — Kix is back and we're going to be around for a while."
Producer Taylor Rhodes has previously worked with Kix on the 'Show Business', 'Hot Wire' and 'Blow My Fuse' albums. He is best known for writing songs with Aerosmith, Ratt, Ozzy Osbourne, Loverboy, Cheap Trick, Tora Tora and others.
Kix currently consists of original members Whiteman, guitarists Ronnie Younkins and Brian Forsythe, drummer Jimmy Chalfant and newest member Mark Schenker on bass.
The only original member missing from the current line-up of Kix is Donnie Purnell. Whiteman explained to Sleaze Roxx why the bassist is missing, "When Kix disbanded in '96 I started a band called Funny Money. In Funny Money I was given a vehicle where I could write my own material which was hard to do in Kix because Donnie controlled everything in that band. Getting anything onto a Kix record was hard to do because of that reason. I was finally able to write an entire album's worth of material for my band Funny Money. There was a song that Donnie and I had written that I wanted to release, I called him up so he wouldn't be blindsided by it and he tore into me. He called me every name in the book — he accused me of using his name and his talent and that I was taking the song from him. It was the most unpleasant and nasty conversation that I've ever had in my life. It was right then and there that I decided that I never wanted to go through that ever again. When it came time for us to reform and we performed some local shows it was our decision not to have him involved because we wanted to enjoy it and not have any pressure. Donnie would always add so much pressure to everything and it was just so unnecessary, so we decided to try it without him. To be honest I've never had a fan walk up to me and ask me, "Where's Donnie? How come he's not involved?" We were going out to play the old music — we could do that without him just fine."
source: sleazeroxx.com