PRE-ORDER DEF LEPPARD'S CONCERT FILM "AND THERE WILL BE A NEXT TIME-LIVE FROM DETROIT" TODAY, LIVE CLIP OF "LET'S GO" POSTED ONLINE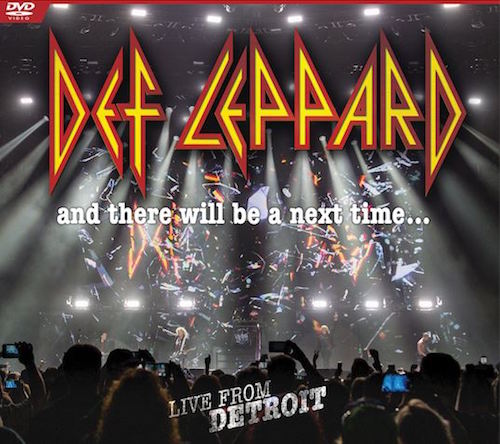 Legendary rockers Def Leppard excited and thrilled fans nationwide with their massive 55+ city Summer 2016 North American tour. Def Leppard will now share their masterful performance on DVD and Blu-ray. On February 10th, Eagle Rock Entertainment will release their epic concert film, And There Will Be A Next Time – Live From Detroit, on DVD+2CD for $21.98, Blu-ray+2CD for $26.98, and Digital Video.
Filmed at the DTE Energy Music Theatre in Clarkston, MI, And There Will Be A Next Time – Live From Detroit, is an incredible showcase that captures the electrifying energy and power of Def Leppard live today. As the sun began to set over a frenzied Detroit crowd, Def Leppard's legendary hooks and anthemic rock served up an audiovisual feast second to none. The audience were served hit after hit with fan favorites from across their iconic career.
Watch a clip of Let's Go, from And There Will Be A Next Time – Live From Detroit, below.
Said front man Joe Elliott, "I had this idea that we should film one of the shows from the 2016 tour because apart from the Viva Hysteria shows, we hadn't actually had a live performance filmed since 1988. With a new album out that was being so well received, it was just a case of where to do it. From the second the house lights went down, we could see the sun setting from the stage, and the energy from the crowd just seemed to intensify. It was a good choice and a great way to document Def Leppard in 2016."
As a bonus, the DVD set will include the official music videos for Let's Go, Dangerous, Man Enough, and the lyric video for Let's Go. (Click highlighted titles to view)
In anticipation of the DVD release, Def Leppard and Eagle Rock Entertainment are launching a special PledgeMusic pre-order today (1/10). Fans who participate will gain early access to a few select tracks, including Dangerous and Rock On, as well as exclusive merchandise from PledgeMusic. Click here to pre-order.
And There Will Be A Next Time – Live From Detroit track listing:
Disc 1:
Let's Go
Animal
Let It Go
Dangerous
Foolin'
Love Bites
Armaggeddon It
Rock On
Man Enough
Disc 2:
Rocket
Bringin' On The Heartbreak
Switch 625
Medley: Hysteria / Heroes
Let's Get Rocked
Pour Some Sugar On Me
Rock of Ages
Photograph
With two prestigious Diamond Awards to their credit, Def Leppard continues to stand tall in the music industry and deliver some of the most iconic rock melodies and memorable anthems of all time. Most recently, their 2015 self-titled album featured singles Dangerous and Let's Go which premiered at RollingStone.com and hit #1 on the Billboard Top Rock Albums Chart.
Def Leppard IS:
Joe Elliott (vocals)
Phil Collen (guitar)
Vivian Campbell (guitar)
Rick Savage (bass)
Rick Allen (drums)