METALLICA's "72 SEASONS GLOBAL PREMIERE" COMING TO MOVIE THEATERS WORLDWIDE FOR ONE NIGHT ONLY ON APRIL 13TH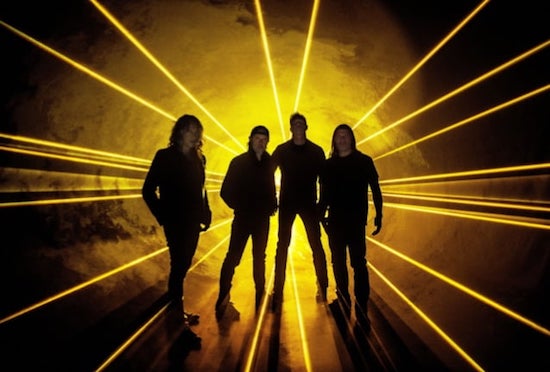 Metallica and Trafalgar Releasing are excited to extend an open invitation to a worldwide listening party: the global premiere of the band's forthcoming 12th studio album,72 Seasons. For one night only on April 13th, 72 Seasons will be played in full in pummeling surround sound, exclusively for cinema audiences worldwide — with every one of the new songs featuring its own music video and exclusive commentary from the band. The result will offer fans an unforgettable night as they experience 72 Seasons first and fully on the eve of its April 14th release date. View a 72 Seasons – Global Premiere announcement video from the band below.
Tickets for 72 Seasons – Global Premiere will be available beginning March 2nd at metallica.film.
Preceded by the newly released album track Screaming Suicide and its brand-new lyric video, and first single Lux Æterna — hailed upon its November 28th release as "thundering, breakneck" (Billboard),"gut-punching" (Rolling Stone) and "blistering" (USA Today) — 72 Seasons will be released April 14th through Metallica's own Blackened Recordings. Produced by Greg Fidelman with James Hetfield and Lars Ulrich, and clocking in at over 77 minutes, the 12-track 72 Seasons is the band's first full length collection of new material since 2016's Hardwired…To Self-Destruct. The album will be released in formats, including 2LP 140g black vinyl and limited-edition variants, CD and digital.
"This is a monumental opportunity for Metallica fans to be the first to hear the new album. We are thrilled to be a part of this historical global moment — connecting Metallica with their fans once again," said Kymberli Frueh, SVP programming and content acquisitions, Trafalgar Releasing.
Metallica has also released M7 world tour dates, which can be seen here.