KISS TO RELEASE RARE "OFF THE SOUNDBOARD" RECORDING FEATURING GUITARIST MARK ST. JOHN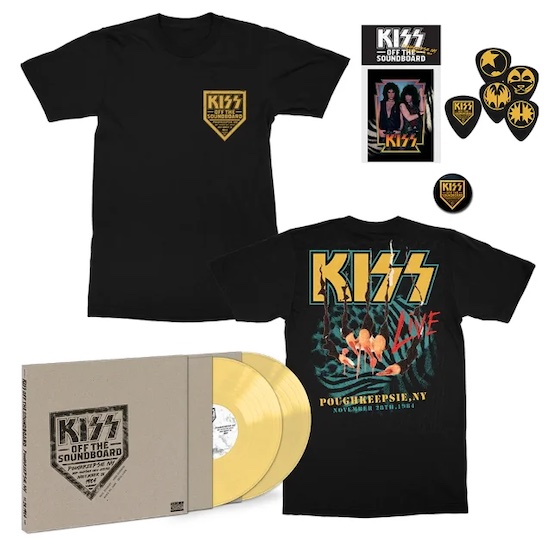 On April 7th, KISS will release the next installment of their Off The Soundboard official live bootleg series with Off The Soundboard: Poughkeepsie, New York, 1984. Recorded live at the Mid-Hudson Arena on November 28th, 1984, during the Animalize world tour, this is the fifth in a series of live releases by the band and will be available to stream and download, with a two-LP standard black vinyl set, CD, and a limited edition two-LP set pressed on 180g custard yellow vinyl which are available to pre-order now exclusively through the official KISS online store.
The multi-platinum band's fifth authorized Soundboard live release comes from the November 28th, 1984 Animalize tour show at the Mid-Hudson Arena in Poughkeepsie, New York, featuring the only known soundboard recording with guitarist Mark St. John. While the tracks Young And Wasted and Rock And Roll All Nite from this historic show are incomplete due to a tape change and tape space — these recordings were originally for archival use — this live recording is of historical importance due to St. John's appearance.
The career-spanning 18-song set includes such tracks as Creatures Of The Night, I Love It Loud, Lick It Up and 1984's Heaven's On Fire" which hit No. 49 U.S. Billboard chart. Poughkeepsie, New York also features perennial anthems Detroit Rock City, Love Gun and Rock And Roll All Nite from their classic back catalog.
"Off The Soundboard: Poughkeepsie, NY" track listing:
1. Detroit Rock City
2. Cold Gin
3. Creatures Of The Night
4. Fits Like A Glove
5. Heaven's On Fire
6. Guitar Solo
7. Under the Gun
8. War Machine
9. Drum Solo
10. Young and Wasted (incomplete)
11. Bass Solo
12. I Love It Loud
13. I Still Love You
14. Love Gun
15. Black Diamond
16. Oh! Susanna
17. Lick It Up
18. Rock And Roll All Nite (incomplete)
KISS are globally recognized as one of the greatest live bands of all time and are the creators of what is universally considered the best live album ever, 1975's gold-certified and No. 9 Billboard-charting Alive! The Off The Soundboard series continues their storied legacy of groundbreaking live albums with a document of the spectacular, larger-than-life extravaganza that is a KISS concert.
Known for their trademark performances, KISS has proven for decades why they are hands down the most iconic live show in rock n roll. The Rock And Roll Hall Of Famers have sold more than 100 million albums worldwide. Peerless as a live act, the band's illustrious legacy has been marked by record breaking global tours during a remarkable 50-year career.