IRON MAIDEN FRONTMAN BRUCE DICKINSON EXPLAINS WHY THE BAND ALWAYS PLAYS UFO'S "DOCTOR DOCTOR" BEFORE GOING ONSTAGE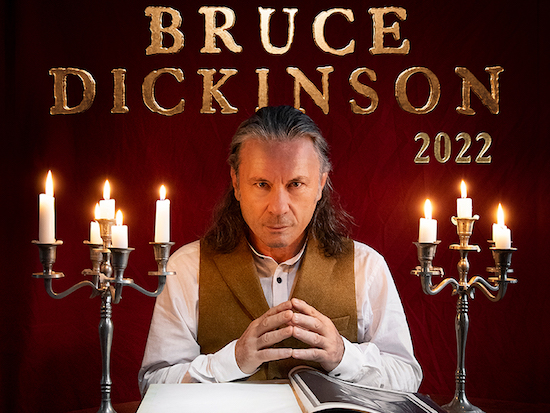 During the question-and-answer portion of his February 11th spoken-word show at The Vic Theatre in Chicago, Illinois, Iron Maiden frontman Bruce Dickinson was asked why the band always plays UFO's Doctor Doctor as the "entrance music" at its concerts. He responded, "It has the added advantage that everybody knows we play Doctor Doctor before we go on stage. So, before the intro tape, there's five minutes of Doctor Doctor. It's brilliant, so people go, 'Oh, quick.' Stop having a piss, drink the last pint, get to your seats. Doctor Doctor is playing. They'll be on in a minute. And for the road crew, it's also brilliant. It's, like, 'Stop masturbating in the toilet. Wipe your ass."
Last year, Maiden bassist Steve Harris told Metal Hammer magazine that he named Love To Love, from UFO's 1979 album Strangers In The Night, as one of the eight songs that changed his life. He explained, "UFO have loads of great songs, and loads of great albums, but this version in particular, on Strangers In The Night, really struck a nerve with me. It's the light and shade and the dynamic build-up which does it for me.
I used to listen to Strangers In The Night when I was driving the kids to school in the morning and it gets you fired up for the day.
UFO always had fantastic guitar players — Michael Schenker and Paul Chapman were brilliant — and Phil Mogg is a great singer.
Maiden played two gigs supporting UFO in 1981, in Long Beach and San Bernardino in California, and we'd have loved to have them out with us, but for some reason it never happened."
UFO announced their final tour dates on September 2021, with their final show scheduled on October 29th, 2022 in Athens Greece. The band's entire final tour itinerary can be viewed here.
Iron Maiden released their 17th album, Senjutsu, on September 3rd. The band also announced 2022 North American tour dates starting on September 11th in El Paso, Texas and winding down on October 27th in Tampa, Florida. See the band's entire scheduled stops, by clicking here.
Frontman Bruce Dickinson is currently on a speaking engagement tour with his next appearance in San Deigo tonight (2/28). His remaining dates are as follows:
3/1 – Los Angeles, CA @ Orpheum Theatre
3/3 – San Francisco, CA @ Palace of Fine Arts
3/4 – Portland, OR @ Arlene Schnitzer Concert Hall
3/6 – Seattle, WA @ The Moore Theatre
3/12 – Las Vegas, NV @ House Of Blues
3/14 – Vancouver (New Westminster), BC @ Massey Theatre
3/16 – Victoria, BC @ Royal Theatre
3/18 – Edmonton, AB @ Winspear Centre
3/20 – Winnipeg, AB @ Burton Cummings Theatre
3/21 – Calgary, AB @ Jack Singer Concert Hall
3/23 – Montreal, QC @ MTELUS
3/26 – Ottawa, ON @ Algonquin Commons Theatre
3/27 – Quebec City, QC @ Palais Montcalm
3/29 – Hamilton, ON @ FirstOntario Concert Hall
3/30 – Kitchener, ON @ Centre in the Square