GARY HOLT ON IF "THE BIG FOUR" WAS TO EXPAND TO "THE BIG FIVE" SHOULD EXODUS BE INCLUDED? GUITARIST SAYS, "I KNOW WHERE I WAS WHEN THRASH WAS BORN…SO, THAT SPOT BELONGS TO US"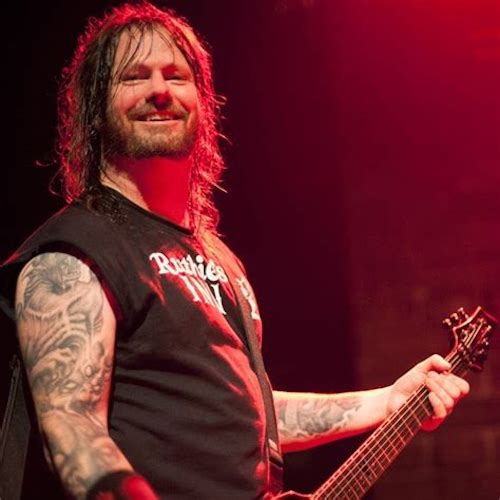 Greg Prato of Guitar World spoke with Exodus guitarist Gary Holt, highlights from the interview appear below.
Guitar World: Let's start by discussing the new Exodus album, Persona Non Grata.
Gary Holt: The big difference on this album is we built a full-on recording studio up at Tom Hunting's – up in the mountains. And I literally had the ability to mic up as many speakers as I wanted, and really go crazy – and really do it the way we did back in the glory days of spending a ton of money on recording studios. But we did it on our own, and it was super awesome to play with sound like that.
Guitar World: Which songs are you most proud of from a guitar standpoint?
Gary Holt: My favorite solo on the album is on The Fires of Division. That one came out really, really good. Some of them are not easy to play – the title track. That main riff is just completely weird, and it's a "left wrist killer." It's just one of those where the process of playing that riff is really hard on the left hand.
Guitar World: Do you think there could ever be another movement as far-reaching as thrash metal was in the '80s?
Gary Holt: I don't know. I guess in its own way, the nu metal wave took off, and there were a million bands that came out of it. And some rose to the top. So, I guess you've got to give them credit for having a movement of their own. But going forward, I don't know. I don't know if there will be another genuine movement like that. The club scenes aren't what they were.
Guitar Word: Do you agree that if The Big Four was expanded to The Big Five, Exodus would be included?
Gary Holt: I don't waste time thinking about that kind of stuff. I just tell people, "I know where I was when thrash metal was born," and a lot of other bands that lay claim to that spot didn't exist yet. So, that spot belongs to us – f–k everybody else! [Laughs]
Guitar World: Are you still in touch with the members of Slayer?
Gary Holt: Yeah, I was just texting Kerry [King] a little while ago. I haven't seen anybody since the band ended and the pandemic struck. It's not like I was out on the road where I could run into people at shows and such. I've got nothing but love for those guys.
Guitar World: What are your thoughts on the current state of metal guitar?
Gary Holt: I think it's awesome. There are kids I follow on Instagram that are just shredding – young kids, like 15-year-old girls, that are riffing out Meshuggah riffs. I think that's awesome that there's a whole generation of guitar players coming up – rather than DJs. It gives me hope for the future.
Guitar World: Who are your favorite modern day metal guitarists?
Gary Holt: Michael Amott. He's the modern day Michael Schenker. But he's his own man – his vibrato, his tone, everything. Zakk Wylde is one of my heroes. But he's been around a long time – he's an old guy like me. There are a ton of guys out there that are all so good now. It's crazy.
Guitar World: You just mentioned Michael Schenker. It seems like all the thrash guitarists of the '80s list him as a major influence.
Gary Holt: It's our age. In our heyday, UFO were huge – and still are one of my all-time favorite bands. And Schenker is number two on my guitar list…sometimes number 1 – it depends on how I'm feeling between him and [Ritchie] Blackmore on any given day.
But I think all of us thrash guys grew up on the same music. And Michael is a phenomenal guitar player and just as good of a songwriter. His catalog of hits is phenomenal – it's crazy what it is.
Read more at Guitar World.
To read details about Exodus' forthcoming album, Persona Non Grata (out 11/19), and to stream audio for their first single, The Beatings Will Continue (Until Morale Improves), click here. To see a lyric video for the song, Clickbait, please go here. Pre-order for Persona Non Grata is available now.