EXODUS TO RELEASE NEW ALBUM, "PERSONA NON GRATA" ON NOVEMBER 19TH, STREAM AUDIO FOR SINGLE "THE BEATINGS WILL CONTINUE (UNTIL MORALE IMPROVES)"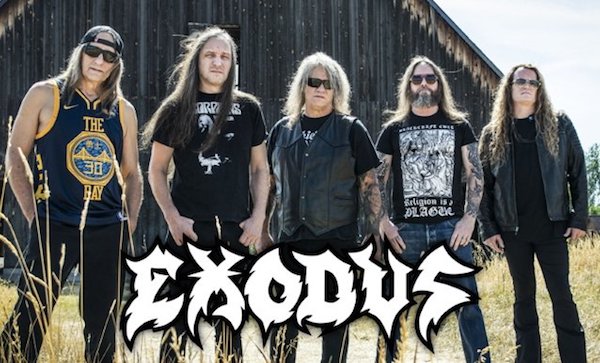 Exodus will release their new album, Persona Non Grata, on November 19th through Nuclear Blast Records. Stream the first single, The Beatings Will Continue (Until Morale Improves), below.
Persona Non Grata is the follow-up to 2014's Blood In Blood Out, which was the San Francisco Bay Area thrashers' first release since the departure of the group's lead singer of nine years, Rob Dukes, and the return of Steve "Zetro" Souza, who previously fronted Exodus from 1986 to 1993 and from 2002 to 2004.
Regarding the songwriting and recording process for Persona Non Grata, Zetro said, "I wrote a couple of songs lyrically, but [guitarist] Gary Holt wrote the brunt of this record, and it exemplifies why he is the real deal in thrash metal or heavy metal. That's why all you guys that follow him and love his guitar playing and his technique and his style, you have every reason to do that. And this record, after you hear the record, you're just gonna go, 'Wow! Zetro was right.' And then performance-wise, everybody killed it on their performance. Tom was a man possessed. Jack [Gibson, bass] was too; I think it's the best bass playing I've heard on a record for Jack. And those that have heard the record think it's the best vocal performance that I've done."
Persona Non Grata track listing:
1.  Persona Non Grata 
2.  R.E.M.F. 
3.  Slipping Into Madness 
4.  Elitist 
5.  Prescribing Horror
6.  The Beatings Will Continue (Until Morale Improves)
7. The Years Of Death And Dying
8.  Clickbait
9.  Cosa Del Pantano
10. Lunatic-Liar-Lord
11. The Fires Of Division
12. Antiseed