THE AUTHOR OF "ERUPTION: CONVERSATIONS WITH EDDIE VAN HALEN," SAYS VAN HALEN "WAS ALWAYS RECORDING – HE NEVER STOPPED"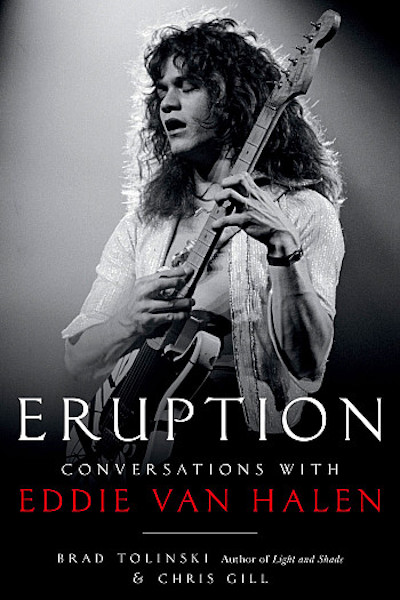 Greg Prato for Songfacts spoke with Brad Tolinski, one the co-author's of Eruption: Conversations with Eddie Van Halen, portions of the interview appear below.
Songfacts: When did you first meet Eddie and how many times did you interview him over the years?
Brad Tolinski: I first met Ed probably in the late 1980s or the early 1990s at a NAMM show. I was just starting as the editor-in -in-chief of Guitar World, and we needed an interview with Ed done about his new guitar – I think it was the Music Man guitar at that time. And as the editor-in-chief, I was able to assign myself to the story! [Laughs] Good excuse to chat with Ed. After that, we probably spoke – on record or off record – at least a couple of times every year for the next 25 years. I talked with Ed pretty regularly.
My co-author, Chris Gill, also spoke with Ed quite a bit. Towards the end of my reign at Guitar World, I was overseeing something like four or five different magazines and I was writing less. And when it came to Ed, I tended to assign Chris because he was so knowledgeable about Ed's music and his sound. They got along really well, as well. So, that's why I also brought him in on the book
Songfacts: For many years, I – and I'm sure many fellow Van Halen fans – was under the impression that Eddie had the perfect life. He was in one of the world's most successful rock bands, had money, a beautiful wife, a child, and universal praise for his guitar playing. But as readers will find out in the book, he was a troubled person… or perhaps a "tortured artist."
Brad Tolinski: I would say this: He was a complex person. The image that most people have of Ed is sort of like this all-American guy with this beautiful smile and living a charmed life….
…A lot of his personality was determined by emigrating from Holland to America at an early age. As an immigrant, he couldn't really speak English, so the first few years of his life here were incredibly difficult because he was just tossed into school, couldn't really speak English, got picked on a lot. And that gave him a certain amount of social anxiety that I think stayed with him his entire life.
On the positive side, that made him retreat into this world of music. He couldn't really communicate well using the English language, but he still had the desire to communicate, and he did that through music. And I think that is where his dedication, intensity, and all of his focus came from, first with his piano playing, then on his guitar playing.
Songfacts: There has been speculation about what is included in Eddie's vast tape archive.
Brad Tolinski: There's a lot of stuff. What's interesting is he really only recorded two studio albums in the last 20 years of his life, but he was always recording – he never stopped. He was always experimenting and doing things.
I went to 5150 [Eddie's studio] quite a bit, and there were literally shelves of CDs that had been recorded with stuff, cassette tapes, and all sorts of ideas. I heard a few things – not a lot – and I talked to a number of other people…
…But there's a lot of stuff. And who knows when or if we're going to hear any of it.
Songfacts: A few years back I interviewed [bassist] Billy Sheehan for the book Shredders: The Oral History of Speed Guitar (And More), and he said that before Van Halen's reunion with David Lee Roth, he had been jamming with Eddie and Alex [Van Halen] in the studio. So perhaps there are recordings of that.
Brad Tolinski: I think they had all sorts of music done with all sorts of different people. I know that they had Chris Cornell up there at one point singing. I don't think it's of a finished record like people are suggesting. But there is a whole other good dozen songs with Gary Cherone that nobody's ever heard. I've heard some of that stuff and what I heard was terrific. So, Lord knows…
Songfacts: Are you surprised Eddie never released an all-instrumental album à la Jeff Beck or Joe Satriani?
Brad Tolinski: He just wasn't interested. I definitely brought that up with him a couple of times, but he saw himself as being part of a rock band. And it's funny – for as great as a soloist and a player as Ed was, I think he saw himself just as much as a songwriter and felt better when he was with a singer…
Songfacts: Let's settle this debate once and for all: Dave or Sammy [Hagar]?
Brad Tolinski: To me, it's really two different bands. I've been spending quite a while working on the book, but after I've been talking to people, new ideas keep on coming to me. I guess that's the sign of great music – when it suggests new things to you, even 20 or 30 years later. But one thing I really loved about Van Halen – this is true especially in the David Lee Roth years – was how loose-limbed and funky they were.
One of my favorite songs, for example, is Somebody Get Me A Doctor, That sounds like it's going to come off the rails at any minute. It slows down, it speeds up, it stops, it does all these different things. And it's really like a great blues/jazz band, or early rock band…
…And David Lee Roth is a highly, highly underrated lyricist, I think like Mick Jagger. People will talk about Lennon/McCartney and Bob Dylan, but it's hard to write a great rock lyric that doesn't sound cliché and sounds fresh, that's interesting and exciting. And I think Dave was a superior lyricist and actually doesn't get enough credit.
Read more at Songfacts.
Eruption: Conversations with Eddie Van Halen is available at Amazon.