ENUFF Z'NUFF'S CHIP Z'NUFF DISCUSSES THE "HAIR NATION TOUR" AND SAYS, "WE'RE EXCITED THAT EDDIE TRUNK WILL BE HOSTING SOME SELECT DATES"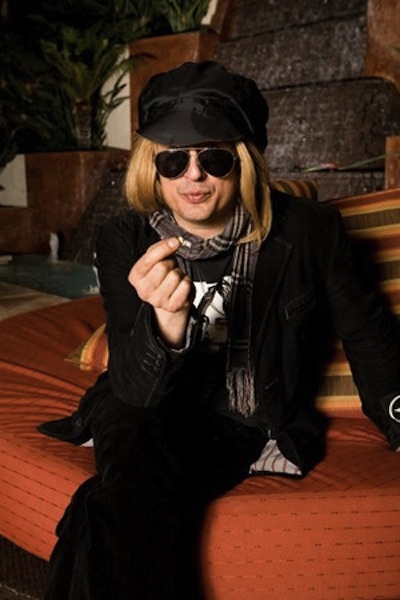 Ruben Mosqueda of Sleaze Roxx spoke with Enuff Z'Nuff frontman/bassist Chip Z'Nuff, excerpts from the dialog appear below.
Sleaze Roxx: You're going to head out shortly the Sirius XM Hair Nation tour, which will be hitting a lot of theaters. You'll be out with Jack Russell's Great White and the Bulletboys.
Chip Z'Nuff: Yeah, we're glad to be on board and part of the team. When Live Nation contacted us, we knew we needed to be a part of this. Some of the bands that they had contacted were bands like King's X, L.A. Guns, Faster Pussycat and many more. Some had already stuff booked so they declined. Other bands declined for Lord knows what reason [bursts into laughter]! This is the first I have released a record [Diamond Boy in the last 25 years that I'll be following it up with a big tour [laughs]! These opportunities are hard to come by these days. The last larger scale tour that Enuff Z'Nuff was a part of was in 2002 with Poison, Quiet Riot and Warrant. We did arenas and the was our last run of debauchery and promiscuity [laughs].
The Hair Nation Tour is a great way to follow up the run we had with Ace Frehley last year, which got us into theaters and larger rooms. Jack Russell and the guys are headlining because they've sold like 20 million records over the course of their career. I'm so grateful that we were asked to be a part of this. Also on the bill are the Bulletboys who we've toured with a lot with over the years. We're also excited that Eddie Trunk will be hosting some select dates on the tour. As you know, he has a weekly show on Hair Nation channel 39 and a daily show on Volume 106. Anyone that embraces the '80s "Sunset Strip" sound will have a great time at this show and it is very affordable, so it won't break the bank. I'm so excited to play the Diamond Boy record for people. I wish the tour started today [laughs].
Sleaze Roxx: On this run on The Hair Nation Tour, do you know how much you'll be allotted and how much of the new album will you sneak into the set? I'm not asking for you to give away what new stuff will be in there, because I'm one that subscribes to the element of surprise when it comes to setlists.
Chip Z'Nuff: That's kind of you and I think, you're absolutely right. On this tour, we're not going to use a tour bus. It's like $1,000.00 a day to keep it on the road. We're not even using a road crew this time around. We tried that for the first initial dates of the Ace tour and our crew did more cocaine than some of the bands did back in the '80s. So we sent them home and loaded in our own gear for the rest of the tour [laughs]. I was kidding about the cocaine part. Nobody parties like that in this band or on this crew. We're going back to square one. We're using a van and pulling gear in a trailer. We'll do an hour set. As you said on the Frehley tour, there were songs we had to play and when we had a short set like that, you got [to play] the main hits. I'd love to play the whole record if I could. We believe that much in it. I'm not trying to sound immodest or anything, but we feel that strongly about the new album. We'll do two-three off the new album and mix things out throughout this tour. We'll be doing shows with the Bulletboys on off nights from The Hair Nation Tour. We've never done meet and greets before but we'll be offering those on this where we'll have fans watch three songs at soundcheck, then get to hangout with the band for a little bit. Can I take a moment to talk about the guys in the band for a minute?
Sleaze Roxx: Absolutely.
Chip Z'Nuff: I have some "big leaguers" in the band right now, so I feel the need to brag a little bit. I have Tony Fenelle on rhythm guitar. He used to be the former singer of Ultravox. He also had a band called Big Noise. He's played all around the world. This guy's is a veteran. He's from Birmingham, England. He's a real star. I have Tory Stoffregen on lead guitar. He's been with me for over ten years now. He's done tons of stuff with me. He was in a band called Black Mollys. He moonlights in a band when he's not doing stuff with Enuff Z'Nuff called New Black Sevens, they're terrific. Tory's a great singer and guitarist. Rounding the band out on drums, we have Daniel Benjamin Hill who played with a band out here in Chicago called Super Big. He's a great drummer and songwriter. I feel that collectively, we bring a lot to the party here.
Sleaze Roxx: Daniel Hill is the son of ZZ Top's Dusty Hill, right?
Chip Z'Nuff: [Long pause] He doesn't like me talking about that. He's an illegitimate son is what the rumor is right now.
Sleaze Roxx: How were you able to keep the peace with Mancow and with the [Howard] Stern camps? Early in, Enuff Z'Nuff's career was during that time where Stern would 'go to war' with all these other jocks and you maintained a relationship with both camps.
Chip Z'Nuff: It's real easy. You just be yourself and you keep those two away from one another [laughs]. I did a show there in Chicago where I brought in a lot of my friends on. I brought on Zakk Wylde when he released his first record and also Ace Frehley. I did it to help my friends in hopes that down the road, if we needed any help in promoting our music, they'd do the same. Howard Stern is one of the most loyal cats in the business. I was on Howard's Wrap Up Show last week. In 1989, going on his show totally changed the trajectory that the band was on. It gave us a tremendous boost and for that I will be eternally grateful…
Read more at Sleaze Roxx.
source: sleazeroxx.com