ENUFF Z'NUFF TO RELEASE DIAMOND BOY ON AUGUST 10TH, NEW SONG, "METALHEART" OUT NOW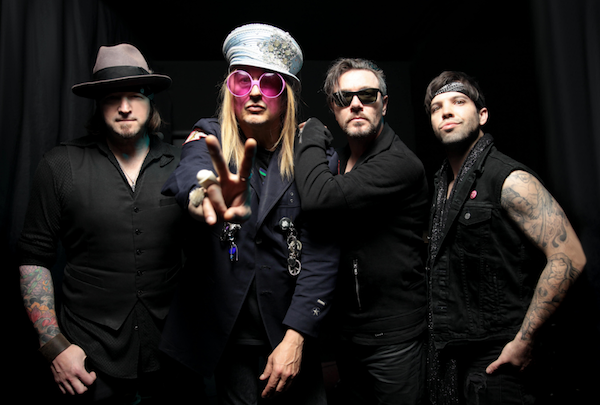 Enuff Z'nuff are the living, breathing example of what a rock 'n roll group should be. Now centered around bass player and vocalist Chip Z'nuff, Enuff Z'nuff are still alive and kicking with a legion of loyal fans, who can't get enough of the band's power pop melded with hard rock stylings. They have proven this once again with the release of their upcoming album Diamond Boy which is set for an August 10th release through Frontiers Music Srl.
Today, the first single from the album entitled Metalheart has been released. It is available on all streaming services as well as an instant download with digital pre-orders.
"This song is about bullying, mentally-abusive relationships. The song provides the answer on how to overcome adversity and move forward from a bad situation," says Z'nuff. Pre-order the album & stream the single here.
This record is the first Enuff Z'nuff release where Chip handles all of the vocal duties, which was quite a task, but one he was certainly up for, "[Singing on the entire album was] very challenging. I'm taking the place of my brother who I consider one of the greatest singers of our generation. The sings on this record are solid as a boulder," says Chip.
He describes the album as "It's a fresh new chapter that should have been written a long time ago. Picture David Bowie & The Beatles fighting and Cheap Trick comes in to break it up."
In addition to Chip Z'nuff, the band features longtime guitarist Tory Stoffregen, ex-Ultravox singer/guitarist Tony Fennell, and Chicago native Daniel Benjamin Hill on drums. Enuff Z'nuff continues to tour and record relentlessly and this new record shows once again what a truly gifted hard / power pop act they are. With no shortage of hooks and awesome songs, "Diamond Boy" is another gem in Enuff Z'Nuff's crown!
Diamond Boy Track Listing:
1. Transcendence
2. Diamond Boy
3. Where Did You Go
4. We're All The Same
5. Fire & Ice
6. Down On Luck
7. Metalheart
8. Love Is On The Line
9. Faith, Hope & Luv
10. Dopesick
11. Imaginary Man
Band:
Chip Z'nuff: Singer/ Electric bass guitar
Tony Fennell: Guitar
Tory Stoffregen: Guitar
Dan Hill: Drums
Catch Enuff Z'Nuff on the SiriusXM Hair Nation Tour alongside Jack Russell's Great White and Bulletboys.
Pre-sales are currently underway and the general on sale is set for Friday, June 8th. A complete list of dates can be found below.
+ SiriusXM Presale: Wednesday, June 6 @ 10am local(Password=SIRIUSXM)
+ Ticketmaster Presale: Wednesday, June 6 @ 10am local(Password=ROCKER)
+ Live Nation Presale: Wednesday, June 6 @ 10am local(Password=GOODVIBES)
+ Live Nation App Presale: Wednesday, June 6 @ 10am local(Password=COVERT)
+ Local/Venue Presale: Wednesday, June 6 @ 10am local
– All Presales End: Thursday, June 7 @10pm local
+ Public On Sale: Friday, June 8 @ 10am local
SiriusXM Hair Nation Tour Featuring Enuff Z'Nuff W/ Jack Russell's Great White and Bulletboys:
9/12: San Diego, CA @ House Of Blues
9/14: Los Angeles, CA @ The Wiltern
9/15: Anaheim, CA @ House Of Blues
9/18: Phoenix, AZ @ Van Buren
9/20: Las Vegas, NV @ House Of Blues
9/21: Salt Lake City, UT @ The Depot
10/5: Orlando, FL @ House Of Blues
10/6: Fort Lauderdale, FL @ Revolution Live
10/11: Asbury Park, NJ @ The Stone Pony
10/12: Philadelphia, PA @ Theatre of Living Arts
10/14: Huntington, NY @ The Paramount
10/16: Louisville, KY @ Mercury Ballroom
10/18: Detroit, MI @ Saint Andrews Hall
10/19: Grand Rapids, MI @ Intersection
10/21: Fort Wayne, IN @ Clyde Theatre
10/22: Cleveland, OH @ House Of Blues
10/25: Chicago, IL @ House Of Blues
10/26: Cincinnati, OH @ Bogart's
10/27: Indianapolis, IN @ Egyptian Room at Old National Centre
11/2: Houston, TX @ House Of Blues
11/3: Dallas, TX @ House Of Blues