WHAT ARE THE BAND MEMBERS OF MÖTLEY CRÜE UP TO THESE DAYS?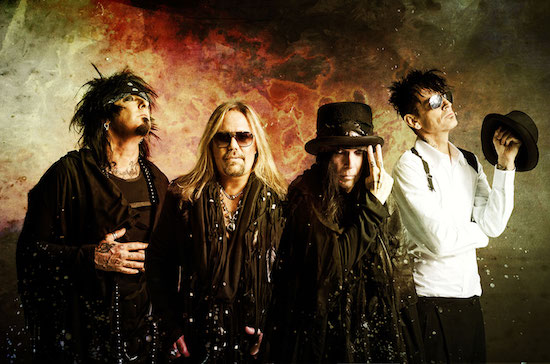 Bryan Reesman of Billboard reports:
Although Mötley Crüe called it quits on the concert circuit following the conclusion of The Final Tour in December 2015, they reunited in the studio last year to do three new songs and a Madonna cover for the official soundtrack to their hit autobiographical movie The Dirt, which debuted on Netflix in March. Those songs have made some fans wonder what's next for the band members. Speaking to them for the 30th anniversary of Dr. Feelgood, Billboard learned about their forthcoming solo projects.
While singer Vince Neil has been touring the country performing songs from the Crüe catalog, guitarist Mick Mars, bassist Nikki Sixx and drummer Tommy Lee have been working on new projects; two of them on solo albums, and one on a musical.
Mars moved to Nashville about six years ago. He had lived in L.A. for a long time and wanted to try someplace new. "I miss it," he admits. "But getting out and getting some room, [I needed] that kind of stuff." Just as he did during the Dr. Feelgood period with Bob Rock, the guitarist has been pushing his playing, although this time with producer Michael Wagener at Blackbird Studio.
The two first worked together when Mars was in a band called Vendetta, just prior to him joining Mötley Crüe in early 1981. Wagener recorded the Vendetta album then went back his home country of Germany for awhile, eventually settling outside of Nashville.
"That's when Mötley came together," recalls Mars. "I did a thing with Vendetta, but they were breaking up. [Accept vocalist] Udo [Dirkschneider] saw me play when he was in Accept. They were gonna get rid of one of their guitar players. But Nikki had called me and Mötley was just starting. I hadn't even thrown out the [band] name yet. I was in a three-way thing. I went over and played with Nikki. I liked the way he played and wrote, and I liked Tommy's drumming. This was it. Just like the movie. There was another guitar player there, and I had to tell him to beat it."
When asked what his new music is like, Mars is hesitant to specifically define it, but he wants to do something more modern. "Not like today's music, which to me is pretty much pop metal and more growly guys," he explains. "It's all cool and it's all good, and I'm just searching for something that's just a little different than that. I [also] don't want to be living in '85. It's hard to reinvent yourself, but that's what I'm doing now. I'm trying to reinvent the way that I approach music writing. I've got a lot of crap, and I've got a lot of good stuff too." He adds jokingly, "I hope I don't lose too many fans."
The guitarist hopes to release his solo album around the beginning of the year, and it will include vocals. Mars says he has a singer who "can be a lot of different voices, and it's pretty amazing. I go, 'I want this kind of voice here,' and he'll pull it straight off." For now, Mars simply says his vocalist's name is Jacob, and he is also working with an orchestrator and arranger to help him with certain parts in his songs.
"The funny thing about [this is] Michael did my very first [band] recording when he got here from Germany," says Mars. "And now he's doing my last record. Pretty ironic."
Drummer Tommy Lee has spent two years working on a solo record that he calls "f–king insane." The album title he is contemplating for the moment is Trans Genres "because one side is all female energy and the other side of the record is all male," he says. "It's very eclectic, and I think everyone's gonna really enjoy it. That's what I've been excited about lately. What a labor of love." The album is recorded and mixed with a planned release date of March 2020…
…The drummer says this new album will be very similar to something like Tommyland and vary from track to track. He jokes that people will say, "What the f–k is this guy thinking?" He immediately references the genres of EDM, hip-hop and screamo. "There's a Prince cover called When You Were Mine'that we slowed down and is f–king insane," enthuses Lee. "There's so much, dude. So much…"
…A wide variety of guest artists will appear on Lee's next album. "There's so many different artists on it," he declares. "There are these super hard girls." Some of the women include South African rapper Push Push, PLYA singer Julia ("a woman with a beautiful voice") and a singer called Ellie ("who has another gorgeous voice"). There's also rap battlist Shotty Horroh ("he pretty much puts everyone in their f–king place, he's the champion of that"), Lukas Rossi of Rock Star: Supernova fame and U.K. hip-hop/dubstep group Foreign Beggars.
Bassist and main Crüe lyricist Nikki Sixx is going in a different direction. He's adapting his best-selling memoir The Heroin Diaries into a musical which is set to launch in April 2020…
Read more at Billboard.