WENDY DIO SAYS RONNIE WOULD HAVE APPROVED OF HOLOGRAM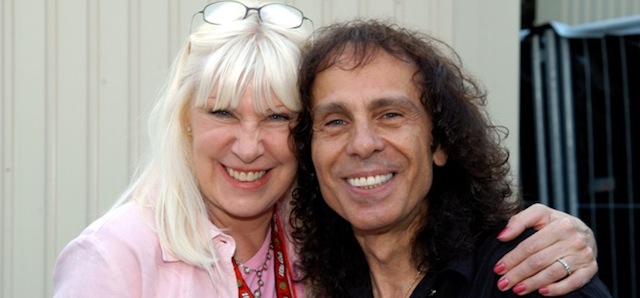 Wendy Dio, former wife, and the manager, of Ronnie James Dio says that she thinks that the iconic singer would have approved of his hologram appearing with the Dio Disciples at the Waken Festival, on August 6th.
Wendy tells Eddie Trunk Live, "We went down into the pit to watch it. I've seen it over and over again in rehearsals – but actually seeing Ronnie on stage with his band, I was brought to tears, as were all the fans near me.
They were all enjoying it, but crying. It was a lot of of love. They really got it and they loved it. I didn't think I was going to cry, but I did."
She reports that the response to the hologram was "90% positive," adding, "You always get the naysayers, but I think people that haven't seen Ronnie would love to see it, and people that have seen Ronnie would love to see him again, especially with his bandmates."
On the overall concept she says, "I thought it was a really good idea, especially with Ronnie – he was always into fantasy and theatrics. I thought it was something he probably would want to do, and something to keep his memory and his music alive."
Guitarist Craig Goldy, a former member of Dio, has said the Dio Disciples will take the hologram show on tour next year.
Wendy says, "We did one song with Ronnie at the end. What we want to do is a whole show, with Ronnie coming in and out, doing maybe six songs."
Meanwhile, a North American show is under discussion so that fans there can see what European followers saw at Waken.
sources: Classic Rock via teamrock.com