VOCALIST/BASSIST GLENN HUGHES DISCUSSES BLACK COUNTRY COMMUNION, DEEP PURPLE, BLACK SABBATH, AND SAYS, "TONY [IOMMI] IS UNCOMFOTABLE WITH THE TERM 'HEAVY METAL'"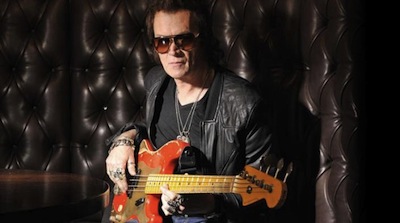 Robert Cavuoto of Myglobalmind Online Magazine recently spoke with vocalist/bassist/songwriter Glenn Hughes. Excerpts from the interview appear below.
Myglobalmind Online Magazine: I saw a recent tweet that Joe Bonamassa and you were going to getting together to start to write for the next BCC CD.
Glenn Hughes: We actually started about six weeks ago as Joe was at my home for about a week of writing. Today [10/25] we are starting another week of writing together where we will finishing writing BCC 4. Then we go into the studio in January and the album will come out May 20th. It's such a focused thing. Joe and I are very excited about BCC 4. Back in April when Joe and I were having dinner in Santa Monica we talked about making this new album and decided to really go for it as well as how now may be the right time to do the reunion. Certain things work at the certain times. The love and support we have behind BCC are amazing.
I think all the things that have happened in my life have happened for a reason. Joe is a solo artist and we both love BCC. He is booked out a year in advance as he is a busy guy. I returned to being a solo artist and this CD Resonate is a return to form for me with another America tour next year. For me, all I want to do for the rest of my life is to write, play, and record music. As long as I'm healthy spiritually and mentally which I am, that's all that resounds to me. That's all I know how to do in life is to give love and music back to others.
Myglobalmind Online Magazine: Will BCC tour to support this?
Glenn Hughes: It's impossible to pinpoint that yet or if it will happen at all. Joe and I have to find windows where we can tour or maybe just play select shows behind the album. Between you and I, or whoever is reading this, [laughing] my life is around playing live with the Glenn Hughes solo band. I have a great band and crew to that drive me to continue to play live and to keep me going. That's what it is all about; to play live in my own band.
Myglobalmind Online Magazine: I always wondered why you and David Coverdale never recorded a CD together.
Glenn Hughes: He has had such a deep run with Whitesnake in the last couple of years. We speak to each other at least once a month. We've talked about it has always been a matter of timing and getting it done. I have an incredible management company and we are keeping me busy by doing albums like Resonate and touring the world behind it. It keeps me grounded.
Myglobalmind Online Magazine: To my recollection, you and Ian Gillian are only two people to ever play in Black Sabbath and Deep Purple. Which band do you feel is really The Godfathers of Heavy Metal?
Glenn Hughes: Sabbath for sure! Let me tell you a funny story because Tony Iommi and I speak about this from time to time. Tony is uncomfortable with the term "Heavy Metal" and we laugh about it. He doesn't like to be called this "Heavy Metal Godfather" [laughing]. As a matter of fact, he is! There is nobody that plays with a bludgeoning dark dense sound like him. He is the King of dark riffs; the King of D tuning and even C tuning which is really insane. Richie Blackmore and Purple were the creators of Hammond and that sound with the Strat. A lot of bands have copies that style. Being in Deep Purple was a great thing for me.
Myglobalmind Online Magazine: What did you think when Ritchie handpicked you to be in Deep Purple and then he decides to leave?
Glenn Hughes: It was rough; He left and wanted to make a more classical sound rock album with those types of overtones in more of a Bach and Paganini style. David Coverdale, John Lord and I were going in a different style. I don't think Ritchie was thinking about Highway Star as he was more about Rainbow Rising. It suited his style more. He just wanted to go somewhere different and God bless him for that.
Robert: What did you think of those first Rainbow albums with Ronnie James Dio?
Glenn Hughes: I never really heard that much of them even though Ronnie and I were such close friends. I wasn't listening to it as it wasn't my style of music. I love Ronnie and was one of dearest friends and I miss him dearly.
Read more at Myglobalmind Online Magazine.
Glenn Hughes' new solo album, Resonate, will be released on November 4th. Read more about the album, and view the track list, here.
To listen to songs from this release, please click on the highlighted titles.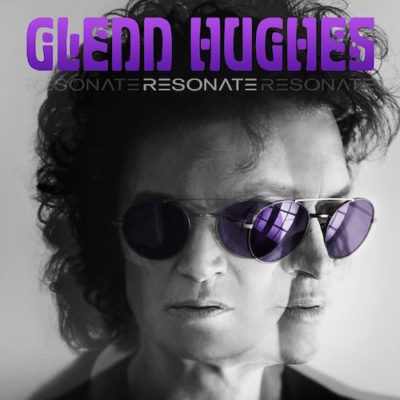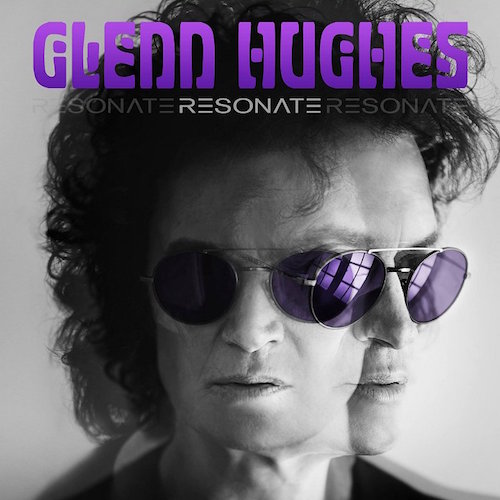 source: myglobalmind.com