GLENN HUGHES' NEW SOLO ALBUM, "RESONATE," OUT ON NOVEMBER 4TH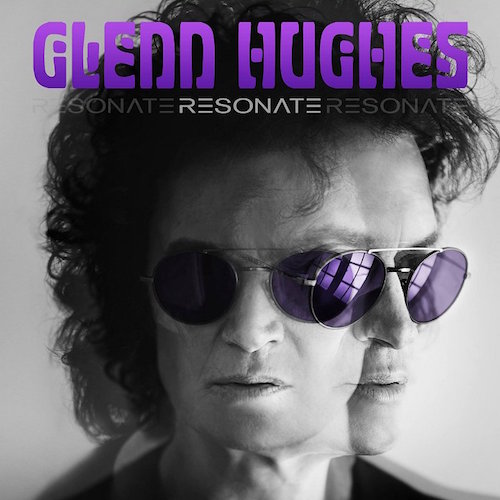 Frontiers Music Srl is pleased to announce the highly-anticipated, twelfth original Glenn Hughes album, Resonate, scheduled for release worldwide on November 4th.
A true vocal and musical icon of our times, Glenn is back with his heaviest solo album to date. Glenn commented upon completion of the new recording, "this album is the first complete Glenn Hughes album."
Resonate will be available in two configurations: regular cd and deluxe edition including one bonus track and DVD. The Deluxe Edition includes the bonus track Nothing's The Same, plus a bonus DVD disc featuring the "Making of" the album documentary – Heavy (song video), and Long Time Gone (song video). A vinyl release will be made available via the Frontiers' label partners Soulfood Music. Resonate was produced by Glenn Hughes & Soren Andersen.
2016 was the busiest year yet for Glenn Hughes. Glenn was inducted in to the Rock and Roll Hall of Fame for his work with Deep Purple in April, recently wrapped up his successful sold-out US headline tour, and now finally Glenn's first solo album in over 8 years will see the light of day! Resonate is truly a triumphant return to form for "The Voice of Rock"! No other rock musician has carved such a distinctive style blending the finest elements of hard rock, soul and funk. That astonishing voice is Hughes' calling card and the new album, Resonate will shine as a true Glenn Hughes landmark release.
From album opener, Heavy, to the very last chords of the closer, Long Time Gone, the new release promises to be a contender for numerous "Album of the Year" lists. It features his live solo band members, Soren Andersen (guitars and co-producer), Pontus Engborg (drums) and newcomer to his band, Lachy Doley (keyboards), in addition to long-time friend and drummer, Chad Smith (of Red Hot Chili Peppers), who joined them in the studio for the opening and closing numbers. An EPK talking about Resonate can be seen below.
Resonate track listing:
1. Heavy
2. My Town
3. Flow
4. Let It Shine
5. Steady
6. God Of Money
7. How Long
8. Landmines
9. When I Fall
10. Stumble & Go
11. Long Time Gone
Glenn Hughes online: