ALTER BRIDGE RELEASES LYRIC VIDEO FOR "MY CHAMPION," VIEW IT HERE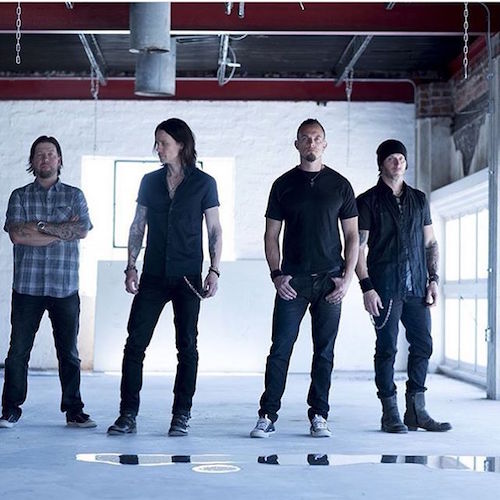 Heroes push us to excel. Their will, courage, and sacrifice can bring out the best in the world around them. Fittingly, on their fifth full-length album, The Last Hero, hard rock juggernaut Alter Bridge pursue a level of excellence inspired by timeless heroism. That mantra is showcased in the track My Champion and the band unveiled a lyric video via worldwide premiere that can be seen below.
"The lyric was actually inspired by thinking back to my situation as a kid," Myles Kennedy recalls. "I was this really small, underdeveloped kid who had to work extremely hard to keep up with all of my peers. It was very frustrating. I would hear a lot of words of encouragement from parents, coaches, or teachers though. A lot of those things were stored away, and they manifested themselves in this song. I've been able to apply some of those concepts in my life a thousand times over since then."
My Champion is the second track released from Alter Bridge's upcoming fifth studio album, The Last Hero. The album is scheduled for worldwide release on October 7th by Caroline Records in the United States/Canada and Napalm Records throughout the rest of the globe. The album is now available for pre-order through iTunes, Amazon, and Google Play. Fans who order the album will receive an instant download of the debut single Show Me A Leader. The album is also available in various fan bundles at alterbridge.com/store. In addition, a new shirt design has been made available to mark the occasion of the video release.
Alter Bridge is heading out on select U.S. headline dates in support of The Last Hero this coming September andselect ticket purchases will come with a digital album. The headline run kicks off September 22nd in Destin, FL. The tour will make stops in San Antonio, TX; Minneapolis, MN; Lincoln, NE; Charlotte, NC; and Nashville, TN. The band will also perform at a few festival dates this Fall including the inaugural Houston Open Air Festival, Sonic Boom, Louder Than Life and the Tulsa State Fair. Tickets for their U.S headline dates are on-sale now through Ticketmaster. To see the band's tour itinerary, please click here.
Alter Bridge is Myles Kennedy on vocals/guitars, Mark Tremonti on guitars/vocals, Brian Marshall on bass and Scott Phillips on drums.