"CAN'T STOP THE SHOW: THE RETURN OF KIX" TWO DISC DVD/CD COMING OCTOBER 21ST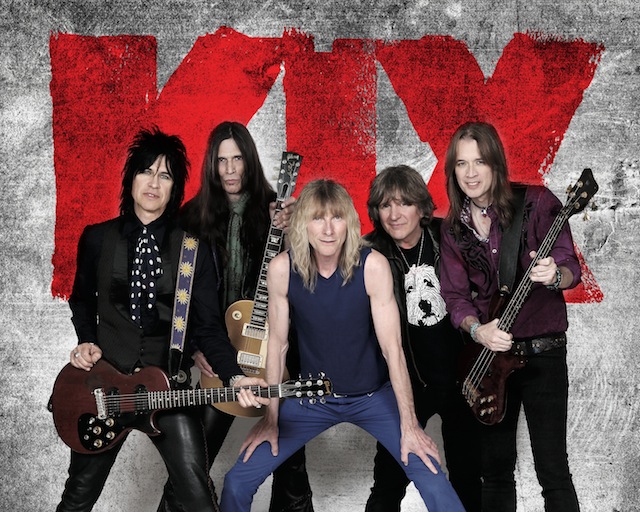 Platinum-selling Maryland hard rock icons, Kix will release, Can't Stop The Show: The Return Of Kix, a two-disc DVD/CD set, October 21st, 2016 on Loud & Proud Records. The 71-minute film is an in-depth look into Kix's decision to record their first new album, 2014's Rock Your Face Off, in almost 20 years. Watch the trailer below.
The DVD also features the making of the album from bassist Mark Schenker's studio, interviews with the band as well as notable rock artists such as Nuno Bettencourt of Extreme, Lzzy Hale of Halestorm, Jeff LaBar of Cinderella, Share Ross of Vixen, Shannon Larkin of Godsmack, and more, key music industry veterans such as radio personality Eddie Trunk, Don Jamieson of That Metal Show on VH1 Classic as well as Luc Carl and Keith Roth of Sirius/XM. It also includes a rare appearance by producer Taylor Rhodes (Aerosmith, Ozzy Osbourne, Kix's Hot Wire).
The CD, Can't Stop The Show (live), offers never-before-released live Kix tracks recorded over the last three years. A bonus Kix logo sticker is inside the first manufacturing run, a special treat for fans around the world, and each band member offers his own special contribution to the package's booklet including vocalist Steve Whiteman's rigorous exercise routine, cartoons by guitarist Brian "Damage" Forsythe, an essay by bassist Mark Schenker, a gear rundown by guitarist Ronnie "10/10" Younkins and a favorite recipe from drummer Jimmy Chalfant, aka "Chef Chocolate."
"Kix is proud of the band's legacy, but equally proud of our new chapter," says Schenker. "We had an opportunity to work with some great film makers, so we just let the cameras roll everywhere, and had so much fun putting the project together. There was a true outpouring of love and admiration from our fans and our peers after the release of Rock Your Face Off and luckily, we had documented the recording sessions on film. Now we are excited to share the process of making the new album with our loyal fans. Kix thanks everyone involved and hopes everyone loves it as much as we loved making it!"
In 2014, Kix released their seventh full-length album, Rock Your Face Off (Loud & Proud Records) their first studio effort since 1995's Show Business. The album debuted at #1 on Amazon's "Hard Rock and Metal "chart, in the Top 50 on Billboard's "Top 200 Albums" chart, #5 on the "Independent Albums "chart, #11 on the "Top Internet "chart, #17 on the "Top Rock Albums" chart, #27 on the "Indy/Small Chain Core Stores" chart and #33 on the "Physical" chart. It also garnered rave reviews from publications such as Stereogum who said, "Kix have made an album with all the spirit and joy and craftsmanship that they always brought, an album with a hooks-per-minute ratio enough to grab you even if you never heard of them before reading this review. The band plays with a sense of rhythmic push-pull that reminds you that people used to dance to this stuff, and that they still could, if they were so inclined…Its mere existence is an inspirational thing, and it's a reminder that sometimes exploring new musical space isn't the most important thing. Sometimes, songs are the most important thing."
Kix will be performing select shows for the rest of the year, including a home town release event show in Baltimore, MD at Rams Head Live on September 24th, see tour dates below. Pre-order Can't Stop The Show: The Return Of Kix through Amazon.
Kix tour dates:
9/10 Grand Rocktember IV Music Festival Hinckley, MN
9/15 OC Bikefesy W/ Styx, Slaughter,… Ocean City, MD
9/17 Hair Nation Festival W/ Vince Neil, Bret Michaels. Irvine, CA
9/24 Ramshead Live Baltimore, MD
10/1 Monsters of Rock Cruise Los Angeles, CA
10/14 Tally Ho Theatre Leesburg, VA
10/15 Tally Ho Theatre Leesburg, VA
11/12 Harrah'S Resort W/ Skid Row Atlantic City, NJ
12/10 Bomb Factory W/ Slaughter, Lynch Mob,… Dallas, TX
For more information about Kix, visit kixband.com.