GUNS N' ROSES' "NOT IN THIS LIFETIME" TOUR IS THE TOP EARNING SUMMER TOUR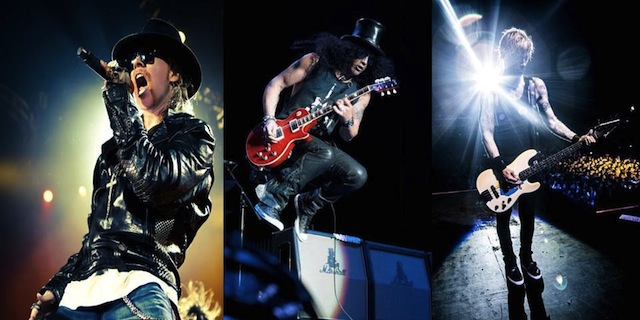 Guns N' Roses' Not In This Lifetime tour has grossed $116.8 million over it's nine-week run across North America.
According to Billboard, Hot Tour figures show that the tour also attracted more than one million fans over the course of their 25 performances throughout the summer.
The trio's first shows together since 1993 came in April when they played The Troubadour in Los Angeles. They followed that with two nights at the T-Mobile Arena, Las Vegas, with ticket sales totalling $6.2m based on 28,849 sales.
However, it was in New York where Guns N' Roses had the top box office tallies, with sales hitting the $11.6m mark at MetLife Statium from the 1000,177 fans who attended two shows.
Hot Tours Top 10 grossing North American summer tours:
1. Guns N' Roses – $116,835,698
2. Bruce Springsteen & The E Street Band – $33,632,390
3. Barbra Streisand – $26,638,090
4. Celine Dion – $24,689,892
5. Kenny Chesney – $17,926,699
6. Billy Joel – $8,871,419
7. Metallica – $5,158,790
8. Juan Gabriel – $3,482,694
9. Keith Urban – $2,770,077
10. Dave Matthews Band – $1,467,185
additional source: Classic Rock Magazine through teamrock.com