ALTER BRIDGE RELEASE MUSIC VIDEO FOR "SHOW ME A LEADER" FROM THE LAST HERO AVAILABLE WORLDWIDE ON OCTOBER 7th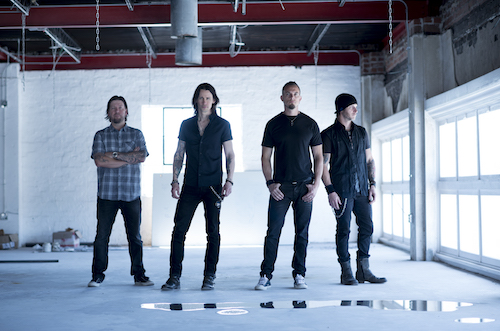 Alter Bridge has always worked to outdo their previous efforts in every aspect of their career. The same holds true for the newest video for their debut single Show Me A Leader that was released today.
The video is based on a concept created by Alter Bridge and director Zev Deans that brings life to the story told in the single's lyrics. The animated video shows the world in turmoil as politicians (represented by suits with megaphone heads) are broadcasting harmful messages to the public. The band is on a roof with a satellite dish performing Show Me A Leader to counteract the harmful messages being spread. The video is visually captivating and showcases Deans' talent and unique creative style, something the band was immediately drawn to. The video premiered on Vevo and can be seen at here.
Show Me A Leader is the debut single from Alter Bridge's fifth studio album, The Last Hero. The album is scheduled for worldwide release on October 7th by Caroline Records in the United States/Canada and Napalm Records throughout the rest of the globe. In the US, the song has been moving up the Active Rock charts being a Greatest Gainer this week via Mediabase and was Top 5 Most Added when it was released last week. The single is currently #27 on the Active Rock Chart this week. Show Me A Leader is also streaming on Spotify.
The Last Hero is now available for pre-order through iTunes, Amazon, and Google Play. Fans who order the album will receive an instant download of the debut single Show Me A Leader. The album is also available in various fan bundles at alterbridge.com/store. In addition, a new shirt design has been made available to mark the occasion of the video release.
Alter Bridge is heading out on select U.S. headline dates in support of The Last Hero this coming September andselect ticket purchases will come with a digital album. The headline run kicks off September 22nd in Destin, FL. The tour will make stops in San Antonio, TX; Minneapolis, MN; Lincoln, NE; Charlotte, NC; and Nashville, TN. The band will also perform at a few festival dates this Fall including the inaugural Houston Open Air Festival, Sonic Boom, Louder Than Life and the Tulsa State Fair. Tickets for their U.S headline dates are on-sale now through Ticketmaster.
Alter Bridge is Myles Kennedy on vocals/guitars, Mark Tremonti on guitars/vocals, Brian Marshall on bass and Scott Phillips on drums.
Alter Bridge on the road:
September:
22 Destin, FL Club LA #
24 Houston, TX Houston Open Air Festival
25 San Antonio, TX Aztec Theater #
28 Minneapolis, MN Skyway Theatre #
29 Lincoln, NE Bourbon Theatre #
October:
1 Janesville, WI Sonic Boom
2 Louisville, KY Louder Than Life
4 Charlotte, NC Fillmore #
5 Nashville, TN War Memorial Auditorium #
7 Dallas, TX House Of Blues #
8 Tulsa, OK Tulsa State Fair – Oklahoma Stage
# Headline show
Alter Bridge online: