THE WINERY DOGS LAUNCH U.S. HEADLINING TOUR OCTOBER 3RD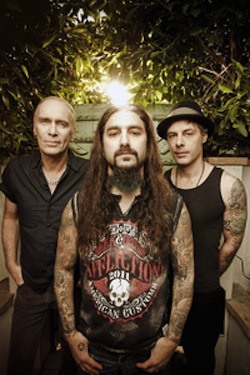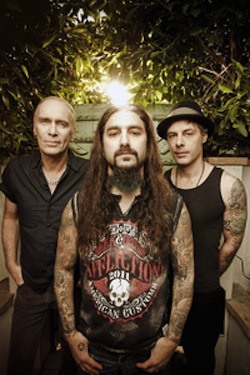 The Winery Dogs–Mike Portnoy (Dream Theater, Avenged Sevenfold), Billy Sheehan (David Lee Roth, Mr. Big) and Richie Kotzen (Poison, Mr. Big)—will launch their latest U.S. headlining tour tomorrow in Agoura Hills, CA at the Canyon Club in support of their critically-acclaimed self-titled debut album, which was released in North America July 23rd on Loud & Proud Records.
To further stir up excitement about the tour, the band world-premiered their latest video for the track "Time Machine" on Billboard.com. The clip was directed by Greg Kaplan and includes live rehearsal footage shot in Southern California, as well as concert footage shot during their recent sold-out tour of Japan. The Winery Dogs' first-ever concert was in Osaka, Japan on July 15th.
Fans can pick up the album on the band's official website, iTunes and Amazon. The band has already released three videos from the new album, Elevate, Desire, and I'm No Angel, which can all be seen on their official YouTube page. Elevate, the album's first single, debuted at #30 on Mediabase's "Mainstream Rock" airplay chart and is currently bulleted at #17. It's been the #1 most-played current song on WDHA-FM (The Rock of New Jersey, 105.5) for a number of weeks.
Of one of the band's first-ever tour dates in August, Philadelphia's Tell Magazine declared: "this band really is the Cream of 2013—three of the best musicians around grouped together and playing powerful music that takes full advantage of their virtuosity… their live show certainly exceeded my expectations. These guys are on fire. I don't think anyone who attended that show wasn't floored by the performance. I think the band members themselves were amazed by the power they're putting out, and how much fun they're having… It's clear that this is a band with a great future ahead of them, and I implore you not to miss this combustible combination when they come to your town."
During the upcoming tour, The Winery Dogs will make a special stop at the Hard Rock Café in New York City on October 23rd to participate in a private star-studded celebration of Eddie Trunk's 30th anniversary of his radio show. Trunk is best known as host of VH1 Classic's That Metal Show and he played a key role in the formation of The Winery Dogs. The seeds of the band were planted in 2011 when Sheehan and Portnoy were working on music together with a different guitarist and songwriter. When that line-up didn't gel, Eddie Trunk suggested they contact Kotzen and see if he was interested in forming a band. The rest is history. Tickets for the party are free and fans can enter to win them by clicking on the banner on this site.
The Winery Dogs tour dates:
Thu 10/3 Agoura Hills, CA Canyon Club
Fri 10/4 Las Vegas, NV Count's Vamp'd
Sat 10/5 San Diego, CA Ramona Mainstage
Sun 10/6 San Juan Capistrano, CA Coach House
Tue 10/8 Sacramento, CA Harlow's
Wed 10/9 San Francisco, CA Yoshi's
Thu 10/10 Portland, OR Star Theatre
Fri 10/11 Seattle, WA Crocodile Café
Mon 10/14 Denver, CO Soiled Dove
Thu 10/17 Milwaukee, WI Potawatomi Casino
Fri 10/18 Palatine, IL Durty Nellies
Sat 10/19 Effingham, IL Effingham Performance Center
Mon 10/21 Pittsburgh, PA Altar Bar
Tue 10/22 Poughkeepsie, NY The Chance
Wed 10/23 New York, NY Eddie Trunk 30th Anniversary Party
Fri 10/25 Clifton Park, NY Upstate Concert Hall
Sat 10/26 Niagara Falls, NY Hard Rock
Sun 10/27 Allentown, PA Maingate Nightclub
Tue 10/29 Sayreville, NJ Starland Ballroom
Wed 10/30 Patchogue, NY Emporium
Thu 10/31 Pawtucket, RI The Met
Sat 11/2 Cleveland, OH Agora Ballroom
Thu 11/5 Cincinnati, OH Mad Frog
Wed 11/6 Ft. Wayne, IN Piere's