OZZY OSBOURNE SAYS "HE DOESN'T WANT TO DIE IN AMERICA"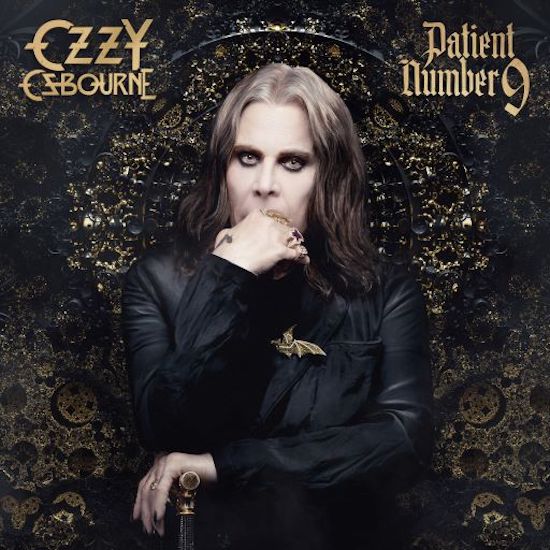 Craig McLean of the The Guardian reports:
…Ozzy's back, and this time it's miraculous. [his] star-studded. Patient Number 9, his 11th solo album, features a roll-call of heavyweight guest musicians, including [his Black Sabbath bandmate Tony] Iommi (his first time on an Ozzy solo album), Jeff Beck, late Foo Fighters drummer Taylor Hawkins and Eric Clapton…
… "Without my Sharon [Osbourne-his wife and manager], I'd be fucking gone. We have a little row now and then, but otherwise we just get on with it." They're devoted to their children and their "grandbabies," as Sharon puts it. Son Jack has just had a girl, his fourth, and the couple will be seeing them as soon as they fly back to LA, the day after our interview – "worse luck!" snorts Sharon.
Because, as much as they love their family, the Osbournes have fallen out of love with America. In February the couple are relocating back to the UK, selling up in LA (their Hancock Park mansion is on the market for $18m) and resuming residence in their 120-year-old Buckinghamshire pile, the Grade II listed Welders House and 350-acre estate. In anticipation, they've got the builders in, to dig a swimming pool, install air-conditioning and fashion Ozzy a studio for more music-making – he mentions a possible album with Iommi.
When I ask why they're coming home after so long in California, Sharon insists it's nothing to do with Ozzy's health. "I knew people would think that. It's not. It's just time. America has changed so drastically. It isn't the United States of America at all. Nothing's united about it. It's a very weird place to live right now."
The Ozzy version, "Everything's f–king ridiculous there. I'm fed up with people getting killed every day. God knows how many people have been shot in school shootings. And there was that mass shooting in Vegas at that concert… It's f–king crazy."
"And I don't want to die in America. I don't want to be buried in f–king Forest Lawn," he says of the LA cemetery favored by expired celebrities. "I'm English. I want to be back. But saying that, if my wife said we've got to go and live in Timbuktu, I'll go." Ozzy inhales deeply, gathers his vocal capabilities and concludes quietly. "But, no, it's just time for me to come home."
But don't go thinking this means the lifelong musician is finally hanging up his rock'n'roll cloak. Both he and Sharon are convinced he has another tour in him. As much is telegraphed in Patient Number 9's penultimate song, God Only Knows, where he sings that it's "better to burn in hell than fade away."
"That's me in a nutshell", he says, nodding, animated and cheerful in his defiance. "I'm saying to you I'll give it the best shot I can for another tour. You have not seen the end of Ozzy Osbourne, I promise you. If I have to go up there and die on the first song, I'll still be back the next day." Spoken like a true Prince of Darkness.
Read more at The Guardian.
Patient Number 9, will be released on September 9th. For more details on this release, and to listen to the title song, please click here. Also, to listen to Ozzy's song, Degradation Rules, featuring his Black Sabbath bandmate, Tony Iommi, please go here.