OZZY OSBOURNE SAYS DRUMMER BILL WARD SHOULD HAVE BEEN INCLUDED ON BLACK SABBATH'S "THE END" TOUR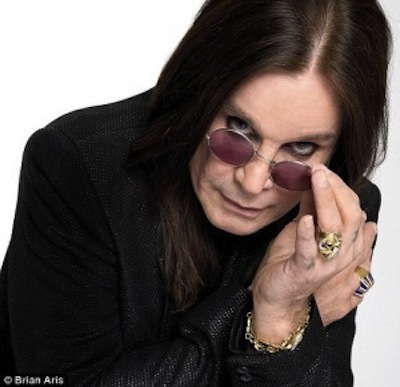 Paul Brannigan of Kerrang! spoke with the Prince of Darkness, Ozzy Osbourne, portions of the interview, appear below.
Kerrang!: When you look back at your childhood in Birmingham, do you remember it as a happy time in your life?

Ozzy Osbourne: No. No, I wasn't a very happy child at all. I had three older sisters and two younger brothers and it was tough for us. I always dreamt of better things. We never went on holidays, we never had a car… we had a bathroom, which was pretty fortunate compared to other families on our street, and I often wonder how my dad afforded that. He was a hard-working guy, and so was my mum. My father used to say, 'You've got to get a job with a trade and a pension, and bring your pay cheque home.' My kids don't know what it was like. I'll say to them, 'When I was young, if you wanted something, like a bike, you had to get a paper round, or whatever, and save up. You didn't go to your dad and say, 'I'd like a new bike' and have him say, 'Oh, just charge it to my account.' It was a different world.
Kerrang!:In 1970, Paranoid became a Top 10 single for Black Sabbath. Did you enjoy being a pop star for a moment?

Ozzy Osbourne: Oh yeah! I mean, none of us set out to be pop stars or rock stars, but it was all an experience. Obviously we hoped we'd be successful, but we didn't really want to be a regular Top Of The Pops band, we didn't want to sell out to that point. That was never going to be our world. When Paranoid was in the charts alongside all these awful pop songs, you'd think, 'How the f–k has this happened?' We could have chosen to write pop songs, but we wanted to write music with a bit of grit and a bit of substance, rather than (sings) 'I love you, you love me…'. All we ever wanted was to write music that we liked.
Kerrang! When you left Black Sabbath, were you scared that it might be the end of your career?

Ozzy Osbourne: Of course I was. There was no challenge anymore with Sabbath at the time, we'd all outgrown each other. But it's like being married to a woman and falling out of love, and thinking, 'I no longer want to be with her… but what if I meet someone who's worse than her?' It's a very big decision to just go, 'F–k this!' I actually left, and then went back, and then they fired me, so I thought, 'Okay, well, I've no f–king choice now.' I remember being in Le Parc Hotel [in Los Angeles], thinking, 'Well, this is it, I'm f–king done now.' I went back to England and bought a wine bar with my now ex-wife, but ended up drinking more than I was selling. And then I met up with Sharon [Osbourne – Ozzy's wife and manager], and the rest is history. Looking back, it was good for them and it was good for me. They needed a new singer and I needed a new band."
Kerrang!: As your manager, Sharon obviously had great faith that you could become a solo star. But did you believe in yourself as much as she believed in you?

Ozzy Osbourne: Probably not. But then Randy Rhoads came along and it was a match made in f–king heaven. Randy was phenomenal, a great guy and a wonderful musician and he really helped me as a singer. He'd hear me humming a melody around the house and go, 'Is that yours?' and we'd work together to build a song out of it. With Sabbath, it worked the other way. Tony would come up with an amazing riff and I had to put a vocal on top of it, which wasn't always comfortable for me, because I had to bend to what the band wanted.
Kerrang! You've played with some incredible guitar players in your career, from Randy to Jake E Lee through to Zakk Wylde. What makes a great guitar player in your eyes?

Ozzy Osbourne: Someone who can f–king play, for a start. Back in the day, auditions used to drive me f–king mental. The first 50 people who'd show up would only be there because they wanted to meet you, and then maybe if you were lucky you might find someone decent among the next 50. I used to get the guys in my band to make a shortlist, otherwise I'd have to sit through 900 guitar players, and usually all kinds of weirdos. I remember one guy saying to me, 'I do a great solo standing on my head.' So I said, 'I don't need a f–king acrobat!."
Kerrang!: You were quoted last year as saying that you didn't really enjoy the final Black Sabbath tour. Assuming that was an accurate quote, what didn't you like about it?

Ozzy Osbourne: I didn't like the fact that [original Sabbath drummer] Bill Ward wasn't there, for a start. People put that down to me, but it wasn't me, honestly. We [Sabbath] didn't have the f–king time to hang around, we had to get going, but I'm sorry it didn't work out with Bill. Tommy [Clufetos, Ozzy's drummer, who played with Sabbath on their farewell tour] did great, but the four of us started this, and it should have been the four of us ending it. Those final gigs in Birmingham were bittersweet because you think of how far we came, and how much we did, and it would have been good to have shared that together. Maybe one day there'll be one last gig, I don't know.
Kerrang! Is a new Ozzy Osbourne album a possibility in 2020?

Ozzy Osbourne: I'd like to make one, but the truth is that people don't buy records anymore. I'd like to make one just for the hell of it, and I imagine Zakk would be into the idea too, because he's a force of nature and a great guitar player, so we'll see.
Read more at Kerrang!
Ozzy recently announced rescheduled No More Tours 2 2020 UK and European dates, click here to view the itinerary.