NIKKI SIXX SAYS THAT HIS BANDMATES IN MOTLEY CRUE ARE "NOT ENEMIES, BUT NOT FRIENDS"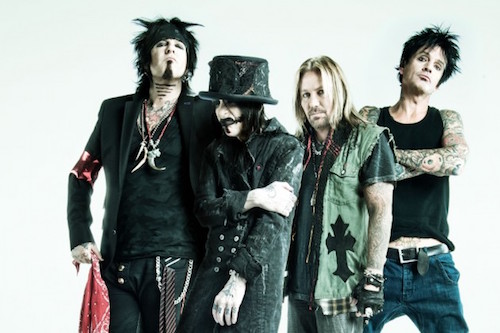 Bassist Nikki Sixx has predicted that the former members of Motley Crue are unlikely to spend any time with each other in the future, adding that they're "not enemies but not friends."
His comments appear in the band's concert movie The End, shot during their farewell show in Los Angeles in December.
Drummer Tommy Lee said last month that he, Sixx, Vince Neil and Mick Mars had gone their separate ways after the show without saying goodbye to each other, and that he hadn't spoken to Sixx or Neil since.
In The End Sixx says, "We probably won't see each other. We don't hang out now. We go on stage like motherf–kers but we don't hang out. We're not enemies, but we're not friends. I'll probably never see them, except in passing."
Neil shares similar thoughts. "The politics of being in a band shouldn't be as tough as it is," he says. "The hardest part of being in Motley Crue is being in Motley Crue.
I don't know if other bands of our stature go through some of the crap that we go through. That's the tough part – being onstage and doing that stuff, that's the easy part."
Lee recently told Rolling Stone he hasn't heard from his bandmates since their last show. "I haven't spoken to Vince Neil or Nikki Sixx," he said. "I speak to [guitarist] Mick Mars a lot. He's actually working on some new stuff, and I'm really happy for him. I think Nikki unfollowed me on Twitter, like, the next day. I was like, 'Wow. Okay dude.'"
The End will be screened in selected cinemas on June 14th, with a DVD release expected later. For more information about this event, and where to screen the movie, please click here.
additional source: Classic Rock Magazine via teamrock.com/news