MÖTLEY CRÜE'S NIKKI SIXX SAYS DAVID LEE ROTH WAS ASKED TO BE ON "THE STADIUM TOUR" AND DECLINED, STATING, "I DON'T OPEN FOR BANDS THAT I INFLUENCED"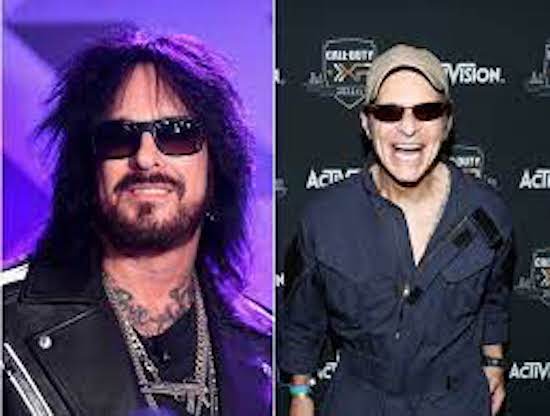 Mötley Crüe bassist Nikki Sixx is featured in article of the Los Angeles Times dubbed The 25 concerts, festivals, albums and music docs we're most excited for this fall.
Sixx's, The First 21: How I Became Nikki Sixx memoir, due October 19th, was included on the list.
Describes the L.A. Times. "When the pandemic delayed a planned 2020 stadium tour, …bassist Sixx found himself hiding out in Wyoming with nothing but time to reflect on his pre-Crüe days; the result is this funny yet surprisingly moving memoir of a small-town kid figuring out who he wanted to be.
Fun fact Sixx dispenses about that stadium tour now set for 2022: the Crüe invited Van Halen's David Lee Roth to share the bill but he passed. 'I don't open for bands that I influenced,' Sixx says Roth told him. "
In October 2019, Roth reflected on the influence of Van Halen on bands that followed, telling KKLZ's The Mike & Carla Morning Show (as per blabbermouth.net) "Hair bands were the imitations of Van Halen. Yeah, it is true, and spandex was what they came up with as something visual. I started off in leather…But Van Halen was a '70s band — we started off in 1972, and our first two albums were in the '70s. We sold our first 10 million records before the '70s were over. We spawned a whole lot of imitators who resorted to gimmickry and trade crap. It's easier to imitate a haircut and a kind of pants and to exhibit bad behavior."
In other Roth news, the singer recently made headlines after KISS bassist Gene Simmons was asked why the Van Halen frontman is not opening for their second set of upcoming Las Vegas residency dates. Linked below are all the stories related to that discussion.
KISS Announce Dates For Their Second Las Vegas Residency, Gene Simmons Explains Why David Lee Roth Is Not Opening This Time Around
David Lee Roth Responds To Gene Simmons' Snide Comment About Him
Gene Simmons Apologizes To David Lee Roth And Says, "I Am So Sorry And Ashamed That I Hurt David's Feelings…Every Once In A While, Diarrhea Of The Mouth Comes Out"