MORE DETAILS ABOUT AEROSMITH GUITARIST JOE PERRY'S AUTOBIOGRAPHY RELEASED, DATES ADDED TO HIS BOOK TOUR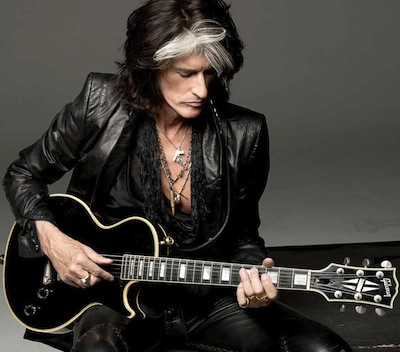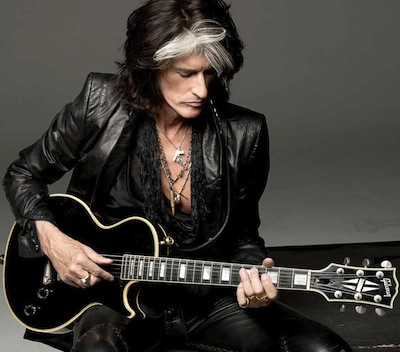 As previously reported, Aerosmith guitarist Joe Perry will be releasing his autobiography, Rock: My Life In and Out of Aerosmith, on October 7th (Simon & Schuster; Hardcover; $27.99).
Joe Perry shares—with total candor and without apology—what life is like as the lead guitarist and co-head writer of Aerosmith. Both a study in brotherhood and solitude, in Rocks Perry reflects on the people who stood beside him during the highs and lows as he and Aerosmith skyrocketed into a world of fame and utter excess. Before he was one half of the "Toxic Twins," Perry was a science-obsessed kid who dreamed of becoming a marine biologist. His loving, supportive parents encouraged his curiosity and sent him to Vermont Academy where his love for rock and roll grew. Before long, he was skipping class to play guitar and ultimately dropped out because he refused to cut his hair. Not long after, he met Steven Tallarico in a New Hampshire restaurant and the two quickly recognized their shared love of music. In 1970, Perry, Tom Hamilton, and the newly-dubbed Steven Tyler moved to Boston, and alongside Joey Kramer and Brad Whitford formed the Aerosmith we know today. The band signed with Columbia Records in 1972.
In Perry's own words, Rocks tells the whole story—"the loner's story, the band's story, the recovery story, the cult story, the love story, the success story, the failure story, the rebirth story, the re-destruction story, and the post-destructive rebirth story"— of what came to pass over the next five decades and details the perks and perils that go hand-in-hand with an extreme rock and roll lifestyle. With over 100 photographs showing Perry's life on- and off-stage, "[ROCKS] will strike gold with every Aerosmith fan"
Perry will also be embarking on a book tour. The dates can be viewed below. Our very own Eddie Trunk will be hosting the first date on the tour and it will be recorded for his podcast. Admission is and free first come first served.
Joe Perry book tour dates:
New York, NY Barnes & Noble in Union Square on Tues. 10/7 @ 7:00PM (Eddie Trunk hosting)
Ridgewood, NJ Bookends on Wed. 10/8 @ 7:00PM
Boston, MA Brookline Booksmith at The Coolidge Theatre on Thurs. 10/9 @ 6:00PM
Boston, MA Guitar Center on Boylston Street on Fri. 10/10 @ 6:00PM
Framingham, MA The Paper Store on Sat. 10/11 @ 2:00PM
Chicago, IL The Standard Club on Mon. 10/13 @ 11:30AM
Chicago, IL Guitar Center in Arlington Heights on Mon. 10/13 @ 3:00PM
Cleveland, OH The Rock & Roll Hall Of Fame on Tues. 10/14 @ 12:00PM
Los Angeles, CA Barnes & Noble at The Grove on Wed. 10/15 @ 7:00PM
San Francisco, CA Guitar Center on Van Ness Avenue on Thurs. 10/16 @ 6:00PM
San Francisco, CA Book Passage at The San Francisco Ferry Building on Fri. 10/17 @ 6:00PM
Phoenix, AZ Changing Hands Bookstore on Sat. 10/18 @ 6:00PM
Phoenix, AZ Guitar Center in Scottsdale on Sun. 10/19 @ 2:00PM
Los Angeles, CA Book Soup on Mon. 10/20 @ 7:00PM @ 7:00PM
Some themes touched on in the book:
*Perry wanted to be a marine biologist as a child, but undiagnosed ADHD that was neither understood nor treated made school hard. He dropped out of the prestigious Vermont Academy his senior year because he refused to cut his hair and went to work in a local factory.
*Although left-handed, Perry plays guitar as a righty because the instruction record that came with his first guitar (a $12.95 Silvertone student model) told him to hold the guitar neck in his left hand and strum with his right. Perry still wonders what type of guitarist he would be if he had not conformed to playing right-handed.
*Perry admits he is not 100% sure what happened the night he walked away from Aerosmith other than that his then-wife Elyssa Jerret threw a glass of milk at Tom Hamilton's wife after an argument. Tyler blamed Perry for the incident, citing his inability to keep Elyssa on a short leash. Perry left the band that night. In his absence from Aerosmith, The Joe Perry Project was born.
*Perry and Tyler have co-written countless Aerosmith songs together. In April 2009, Perry had an itch to write and called Tyler. Tyler agreed to come over, but ultimately blew him off several times. Perry later found out Tyler had flown to England to audition for Led Zeppelin. Perry was told by people on the inside, including Jimmy Page, that the tryout was "shambolic." Like his audition for Led Zeppelin, Tyler also never told his Aerosmith bandmates about his gig with American Idol until it was a done deal.