METALLICA'S LARS ULRICH DEFENDS THE BAND'S GRAMMY PERFORMANCE AND CALLS LADY GAGA, "QUINTESSENTIAL PERFECT FIFTH MEMBER OF THIS BAND"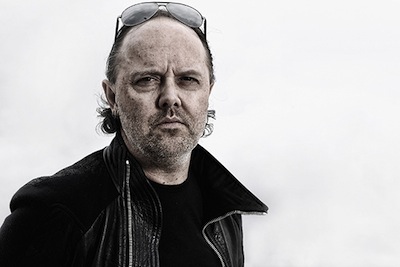 Jason Newman of Rolling Stone reports:
Metallica's Grammy performance with Lady Gaga may not have gone exactly as they envisioned – a stagehand reportedly unplugged the wire to singer James Hetfield's microphone before the group went onstage – but as drummer Lars Ulrich tells Rolling Stone, a "slight technical snafu" couldn't diminish the band's enthusiasm for their temporary new singer.
What was supposed to be a Hetfield-Gaga duet for the band's Moth Into Flame accidentally became a half-song, as Hetfield suffered complete mic failure for much of the song. While he would eventually join Lady Gaga at her mic, a visibly pissed Hetfield knocked down his mic stand at the end of the performance and threw his guitar offstage.
"There was a slight technical snafu, but that's not really something you can do much about," Ulrich says. "You just learn to live with that side of it. It happened to Adele last year; I guess this year it was our turn."
The perpetually enthusiastic drummer was more keen to talk about Gaga, the "quintessential perfect fifth member of this band." "Her voice, her attitude, her outlook on everything is so awesome," he says. "[The performance] was so effortless and organic and she just has the spirit of hard rock and metal flowing through her veins. It comes really easy for her. There's nothing contrived; she just has this super warm, easy energy."
Read more at Rolling Stone.
In other Metallica news, the band recently announced they will be hitting the road in support of their new album, Hardwired… To Self-Destruct. The tour will begin on May 10th in Baltimore and wind down on August 16th in Edmonton, Alberta, Canada. Tickets go on sale this Friday (February 17th) at 10 am local time. For more information about the tour, including a complete itinerary and where to purchase tickets, please click here.
source: rollingstone.com