MARILYN MANSON RESCHEDULES TOUR DATES, SINGER SAYS, "[MY] FIBULA [BROKE] IN TWO PLACES"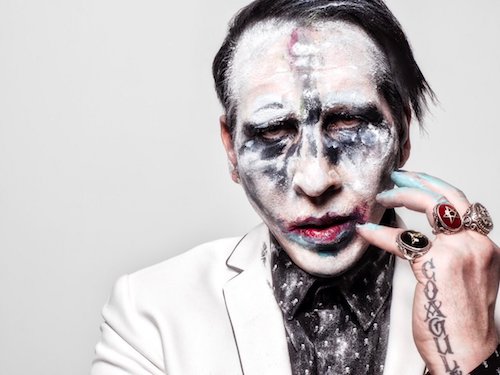 Marilyn Manson has rescheduled his postponed October North American tour.
He was forced to pull the plug on all his planned dates this month after suffering an injury at New York's Hammerstein Ballroom,when a pistol stage prop fell on top of him last month.
The new dates will now take place in January and February next year as part of a wider run of shows. Tickets for the original concerts will remain valid, with the exception of Columbus and Phoenix. Refunds for those performances, which had been planned for October 8th and 26th respectively, are available from the point of purchase.
Find a full list of Manson's rescheduled dates below.
Manson recently told Yahoo, "I only recently watched the video of it. I can see how it could look terrifying. It was terrifying for me, because the truss was not secured properly. I wasn't trying to climb it – it started to fall and I tried to push back and I didn't get out the way in time. I'm not sure what I hit my head on, but it did fall on to my leg [and broke] the fibula in two places. The pain was excruciating."
He added, "It definitely could have crushed my skull and my ribs. I have some minor bruising in that area, but it took six guys to pull it off of me. It was like wrestling a giant iron monster."
Manson's next scheduled live performance will be at Ozzfest Meets Knotfest on November 5th.
Marilyn Manson 2018 North American tour
January:
10: Phoenix Van Buren, AZ
12: Las Vegas House Of Blues, NV
13: Las Vegas House Of Blues, NV
16: Oakland Fox Theatre, CA
19: Salt Lake City The Complex, UT
20: Denver Fillmore, CO
23: San Antonio Aztec Theatre, TX
24: Houston House of Blues, TX
26: Springfield Shrine Mosque, MO
27: Tulsa Brady Theatre, OK
28: Kansas City Arvest Bank Theatre, MO
30: Des Moines 7 Flags Event Center, IA
31: Minneapolis The Myth, MN
February:
2: Madison The Orpheum, WI
3: Milwaukee Eagles Ballroom, WI
6: Chicago Riviera Theatre, IL
7: Grand Rapids 20 Monroe, MI
9: Buffalo Rapids Theatre, NY
11: Toronto Rebel, ON
12: Boston House Of Blues, MA
13: Baltimore Rams Head Live, MD
15: Huntington Paramount Theatre, NY
16: Sayreville Starland Ballroom, NJ
additional source: Metal Hammer via teamrock.com