MARILYN MANSON INJURED ONSTAGE WHEN PROP FALLS ON HIM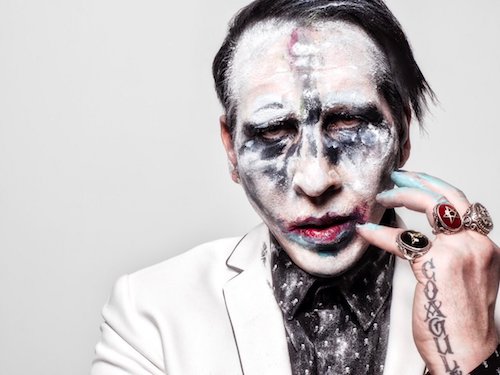 Jennifer Smith of the DailyMail.com reports:
Marilyn Manson has been crushed by a falling prop at his New York City concert.
The 48-year-old rock star was in the middle of singing Sweet Dreams when the props, described by witnesses as giant pistols, fell.
He had just begun climbing on to them in the middle of his performance when they began to give way and "toppled" on top of him, witnesses said.
Several people rushed on to the stage, but it took a number of minutes before Manson was stretchered off stage…
…As expected after Saturday night's incident, the rest of the concert was canceled.
A representative for the star told Variety he was in hospital being treated for an injury but they would not say how serious his condition was. However, the website cited sources saying he is expected to be "fine."
Concert goer Michelle Curran told DailyMail.com that the entire Manhattan Center Hammerstein Ballroom, where the show was being held, went dark after the props fell.
"He was probably half way through singing Sweet Dreams by the Eurythmics and the massive gun display of two pistols behind him toppled on to him. The singing stopped and loads of people ran on to the stage to lift to it up."
He had been onstage for an hour and 20 minutes when the accident occurred.
Immediately after the incident, the concert venue went dark and the music stopped.
The audience watched in horror as what appeared to be a team of crew tried to break him out from under the prop.
He was then wheeled off in a stretcher.
Fans said they then watched as a curtain was put up where the incident had taken place.
They were all then ushered out into the street, hours before the concert's scheduled end.
As of this posting, Manson's condition is unknown.
Read more at the DailyMail.com.
source: dailymail.co.uk