GUITARIST BUCKETHEAD REVEALS THAT HE HAS BEEN BATTLING A HEART CONDITION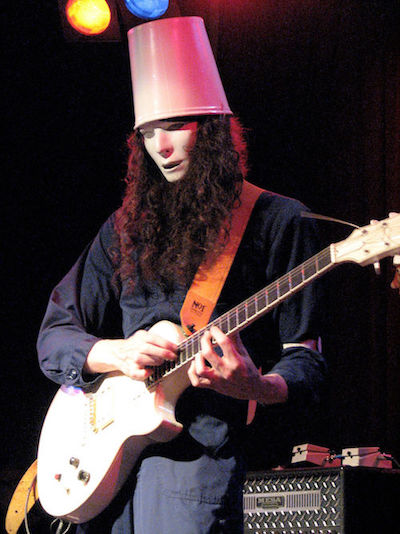 Guitarist Brian Carroll, aka Buckethead, has given a interview where he has revealed he has a heart condition.
He was told by doctors that he was on the verge of having a stroke and reports that even simple tasks such as walking across a room is now difficult for him.
Asked on the Coming Alive podcast, what the hardest thing he's ever gone through, Buckethead said, "I have a heart problem where my heart beats out of rhythm. It's been doing it for a long time, but recently it kicked up and became really intense. I didn't know what was going on – I just tried to deal with it and let it do what it did. But it got really intense, so I went to the doctor and they said, 'You're on the verge of having a stroke.' They suggested I had an ablation, where they go in and freeze your heart. It's supposed to do something with the nerves, because they said my heart was fine and it could be a genetic thing-they didn't really know. I had that procedure and it didn't really stop it and I'm still dealing with it."
The guitarist said he taking medication for the condition, and adds, "It's been really difficult because it's scary. Even walking across a room is difficult. Luckily the medication I'm thankful for, because it's kept it from going berserk, but it's still pretty intense. I'm letting this thing sort of exist in me and I can't really escape it. I'm always aware of my heart beat or the intensity of my heart beat. It definitely scares me, but it's also doing a lot of good because now I better do all the things I want to do – and I've been doing a lot of stuff. I feel an urgency now."
He added, "I could be gone tomorrow. Anybody could be gone, but that's a heavy experience. I want to play right now, and I want to play that experience."
Buckethead has released more than 300 albums and has collaborated with a wide range of artists including Bootsy Collins, Iggy Pop, Mike Patton and was a member of Guns N' Roses between 2000-2004.
additional source: Classic Rock via teamrock.com