ANVIL TO RELEASE "POUNDING THE PAVEMENT" ON JANUARY 19TH, EUROPEAN TOUR ANNOUNCED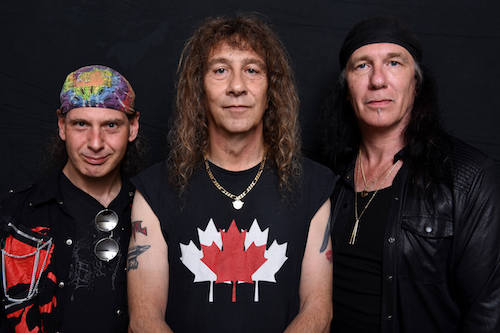 Of course there are bands that have garnered higher chart positions, sold more albums and filled bigger venues than Anvil. Yet there are few metal acts that have earned as much respect from their colleagues as the Canadian act surrounding vocalist/guitarist Steve "Lips" Kudlow and drummer Robb Reiner. The most renowned Anvil aficionados include, among others, international stars such as Metallica and the late Lemmy of Motörhead, who have expressed their unreserved admiration time and again. The reasons for this evident respect are obvious: since 1978, Anvil have been the epitome of a passionate heavy metal band that refuses to be thrown off course by setbacks, adverse conditions and inconsistencies on the business side of things. Their latest album Pounding The Pavement proves their impressive stamina: never before have Anvil sounded as diverse, determined and inspiring.
Why has Pounding The Pavement turned into such an awesome offering?
Kudlow's explanation is simple, "The songwriting process started immediately after the work on our previous album, Anvil Is Anvil, had been completed," he says. "So our thoughts instantly turned to the future again. After Anvil Is Anvil had been cut, everybody knew what we had just delivered and what Anvil's future should sound like." Despite the diverse range of their ideas, Kudlow, Reiner and their bassist Chris Robertson have succeeded in filling the typical trademarks of this unusual band with life once again – which is an important aspect for every Anvil release, after all tradition and reliability play an essential role in this group. Kudlow adds, "Of course we always allow inspirations from earlier recordings to seep in, but always with an emphasis on evolving the characteristic Anvil sound. Lots of fans keep asking us to play the way we did in the so-called good old days. That's why I try from time to time to pick up on that exciting feel of our older material. Mind you, it's always exclusively about the basic atmosphere of that time, never about copying an older song."
The programmatic album title, Pounding The Pavement, is a synonym for the consistently serious challenge of ensuring Anvil's financial survival. Kudlow says, "I feel nothing could describe the way we've been working for the past forty years better than Pounding The Pavement: Anvil have tried for four decades to earn enough money to survive and continue to make music."
Pounding The Pavement, will be released on January 19th, 2018 through SPV/Steamhammer as a digipak version (+1 bonus track and poster), 2LP gatefold coloured version, download and stream.
Pounding The Pavement track listing:
1. Bitch In The Box 4:29
2. Ego 2:57
3. Doing What I Want 3:17
4. Smash Your Face 4:20
5. Pounding The Pavement 3:05
6. Rock That Shit 3:21
7. Let It Go 3:00
8. Nanook Of The North 5:57
9. Black Smoke 3:26
10. World Of Tomorrow 4:37
11. Warming Up 3:03
12. Don´t Tell Me 3:51 (bonus track)
The band will embark on a massive European-Tour from February to April 2018 – here are the confirmed dates:
February:
1 NL-Leiden – Gebr. De Nobel
2 NL-Venlo – Poppodium Grenswerk
3 NL-Hengelo – Metropool
4 NL-Tilburg – Little Devil
6 GB-London – Underworld
7 GB-Stoke – Eleven Music
8 GB-Newcastle – Trillians
9 GB-Grimsby – Yardbirds
10 GB-Glasgow – Cathouse
11 GB-Wigan – Pure
13 GB-Belfast – The Limelight
14 IE-Dublin – The Academy
16 GB-Buckley – Tivoli
17 GB-Bridgend – Hobos
18 GB-Brighton – Green Door Store
20 GB-Bilston – Robin 2
21 GB-York – Fibbers
22 GB-Evesham – Iron Road
23 GB-Weston – The Bear
24 B-Kortrijk – De Kreun
25 F-Paris – Le Trabendo
27 F-Colmar – Le Grillen
March:
1 E-Irun – Sala Tunk
2 E-Madrid – MON
3 E-Valencia – Paberse Club
4 E-Barcelona – Sala Boveda
10 I-Florence – Circus
11 I-Brescia – Circolo Colony
13 CH-Solothurn – Kofmehl
14 D-Munich – Backstage
15 D-Essen – Turock
16 D-Mannheim – 7er Club
17 D-Münster – Sputnikhalle
18 D-Berlin – Musik & Frieden
20 D-Flensburg – Roxy
22 SE-Gothenburg – Sticky Fingers
23 SE-Finspang – Hugo
24 SE-Uppsala – Katalin
25 SE-Stockholm – Fryshuset Klubben
28 NO-Oslo – Olsen Pa Bryn
29 NO-Haugesund – Flytten
30 NO-Hamar – Gregers
31 NO-Odal – Odal Rock Club
April:
4 D-Frankfurt – Nachtleben
5 D-Hamburg – Markthalle
6 D-Siegburg – Kubana
For more information, please visit, facebook.com/anvilmetal.