KISS GUITARIST ACE FREHLEY ON THE POSSIBILITY OF A KISS REUNION, "I'M NOT RULING IT OUT"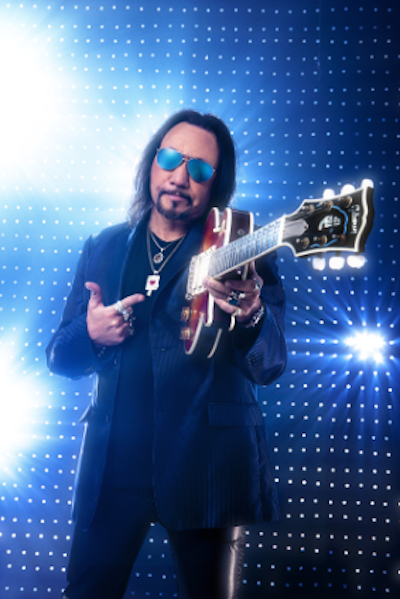 Original KISS guitarist, Ace Frehley, was a recent guest on Eddie's Sirius/XM show, Trunk Nation. Highlights from the interview appear below via Blabbermouth.net.
Discussing how his relationship with his former KISS bandmates was exaggerated by the press, for the worse:
"The press colors the fact that we don't get along, in reality we do. You know, we have disagreements and things are said sometimes, taken out of context. But, I've always been friends with those guys and they've been friends with me. We may not have agreed about certain things over the years and maybe there were times we didn't talk. I mean, we created something amazing that withstood the test of time."
Discussing working with Paul Stanley on the song, Fire And Water, from Frehley's covers album, Origins, Vol 1:
"Working with Paul again, it was almost as if I had never left the band. I mean, the chemistry was still there. I wasn't sure he was gonna do the video. When he agreed to sing on Fire And Water, that was a great accomplishment. The record company said, 'You think Paul will do the video?' And I said, 'I don't know. I'll give him a call.' And he was very receptive from day one, and I was really amazed and thought it came out fantastic…Me and Paul have been through a lot over the years. But whenever we hook up, it's like we've never been apart. He was a consummate professional. And I said to him after we had done, like, fifteen takes, I said, 'I'm gonna shoot some smoking-guitar stuff.' And I go, 'You don't have to hang around, Paul. You can split. I really appreciate all the time you've invested in doing the video.' And he said, 'No, I'll wait around in case you need me.' And it was just terrific. He was a real trooper that day."
Talking about the possibility of a KISS reunion:
"I haven't been contacted. I'm not ruling it out. It's a possibility, I guess. But the ball's in Paul and Gene's [Simmons] court. If that's something that they would like to do to end off the career of KISS, I think it could be… if it was handled correctly, it could be great…And if it happens, it'd be great, and if it doesn't, I'll be fine and they'll be fine."
What about all the rumors floating around regarding a reunion?:
"There's been rumors for years, and the rumors are probably… There's a lot more rumors going around now than there were a few years ago. But, you know, rumors are rumors."
Frehley also confirmed that he has begun working on music for his next collection of original material, tentatively due in 2017.