ACE FREHLEY DEBUTS "FIRE AND WATER" MUSIC VIDEO FEATURING KISS FRONTMAN PAUL STANLEY, FIRST MUSIC VIDEO FEATURING ACE AND PAUL IN 18 YEARS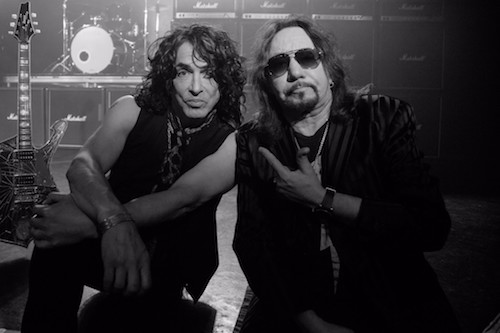 2014 Rock and Roll Hall Of Fame member Ace Frehley today has debuted a brand new music video for his cover of Free's 1970 hit Fire and Water featuring none other than KISS frontman Paul Stanley. The video is being premiered exclusively through VEVO, watch it below.
"It was great working with Paul again and all the years we've spent apart doing other projects seemed to vanish once we hit the stage!," says Frehley.
The video notches itself into rock and roll history as the first time both Frehley and Stanley appear in a music video since KISS' music video for Psycho Circus released in 1998. It's also the first time in 14 years that the two shared a stage since KISS' appearance at the 2002 Winter Olympic Games in Salt Lake City. Finally, it's the first time Frehley has released a music video since 1989, which was Frehley's cover of Do Ya released by both The Move and ELO.
Earlier this week, Acw cracked the U.S. top 10 with his latest effort Origins: Vol. 1 charting at number one on the Billboard Hard Music Chart, number three on the Billboard Rock chart and number six on the Billboard Current Chart selling more than 16k units in its first week of release according to Nielsen Soundscan. Internationally, the LP most notably came in at number two on the Sweden Hard Rock Charts and at five on the England Indie Album Breaker Charts.
Read more aboutOrigins: Vol. 1 here.