ACE FREHLEY CRACKS THE U.S. TOP 10 WITH HIS NEW COVERS ALBUM, "ORIGINS: VOL. 1"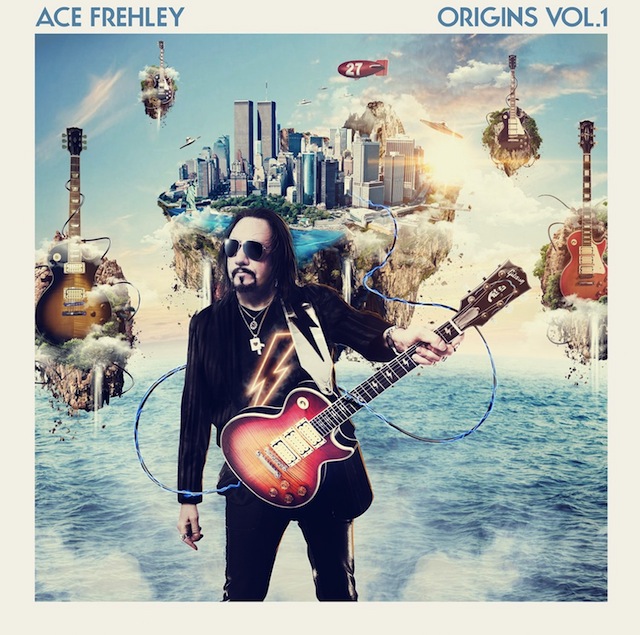 Ace Frehley has cracked the U.S. top 10 with his latest effort Origins: Vol. 1 charting at number one on the Billboard Hard Music Chart, number three on the Billboard Rock chart and number six on the Billboard Current chart selling 16k units in its first week of release according to Nielsen Soundscan. Origins: Vol.1 and its success serves as the follow up to Space Invader, which debuted at number nine on the Top 200 Chart in 2014, the same year Ace Frehley was inducted into the Rock and Roll Hall of Fame with KISS.
The space Ace also confirms today, for the first time, that his all new music video for Fire and Water will feature his former band mate and KISS' co founding frontman Paul Stanley, and will be released Wednesday, April 27th, coincidentally Frehley's 65th birthday.
The music video holds its place in rock and roll history as the first time in 14 years that Ace Frehley and Paul Stanley shared a stage since KISS' appearance at the 2002 Winter Olympic Games in Salt Lake City. It's also the first time Frehley has released a music video since 1989, which was Frehley's cover of Do Ya by ELO and The Move.
Rock and Roll Hall of Famer Frehley released Origins Vol. 1, a collection of 12 newly recorded classics from Ace's formative years featuring some of the biggest names in rock and roll on April 15th. This collaboration marks the first time that Ace and Paul appear on the same studio recording since KISS' 1998 reunion album Psycho Circus.
Other guests on Ace's album include: Slash trading leads on Thin Lizzy's classic Emerald, Lita Ford singing and playing lead on The Troggs staple Wild Thing, Rob Zombie guitarist John 5 playing guitar alongside Ace as he sings his classic KISS composition Parasite for the very first time, as well as Jimi Hendrix's Spanish Castle Magic, and Pearl Jam's Mike McCready also plays guitar with Ace as he finally sings his KISS Alive! mainstay Cold Gin.
Origins: Vol.1 track listing:
1. White Room (Cream)
2. Street Fighting Man (Rolling Stones)
3. Spanish Castle Magic (Jimi Hendrix) *John 5
4. Fire and Water (Free) *Paul Stanley
5. Emerald (Thin Lizzy) *Slash
6. Bring It On Home (Led Zeppelin)
7. Wild Thing (The Troggs) *Lita Ford
8. Parasite *John 5 (KISS)
9. Magic Carpet Ride (Steppenwolf)
10. Cold Gin *Mike McCready (KISS)
11. Till The End Of The Day (Kinks)
12. Rock and Roll Hell (KISS)