JUDAS PRIEST'S "FIREPOWER" AVAILABLE FOR PRE-ORDER, VIDEO FOR "LIGHTING STRIKE" RELEASED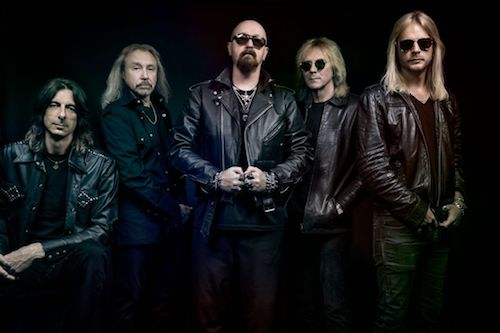 Judas Priest could easily rest on their laurels at this stage of their highly successful and influential career. However, the legendary metal band – singer Rob Halford, guitarists Glenn Tipton and Richie Faulkner, bassist Ian Hill, and drummer Scott Travis – refuse to do so as evidenced by the arrival of their eighteenth studio album overall – Firepower, which can be pre-ordered here.
Set for release on March 9th through Epic Records – the album is comprised of fourteen tracks of pure and highly inspired metal. To mark the occasion Priest has reunited with producer Tom Allom (the man behind the board for all of the band's releases from 1979-1988, including such stellar classics as Unleashed in the East, British Steel, Screaming for Vengeance and Defenders of the Faith) and with Grammy Award-winning producer Andy Sneap also helping to raise the sonic bar even higher.
"Tom Allom has got this classic metal thing," explains Halford. "And Andy is a bit more of a 'modern metal producer' but his thinking is a little bit different to Tom's. And I think to get this balance between that classic old school metal to what Andy's world is was just a remarkable coalescence." "Tom Allom has been with us since 1979, so his knowledge of ourselves and our music in general is immense," adds Hill. And according to Travis Priest returned back to a recording method that worked incredibly well on the band's earlier classics – "We went back to the organic way of recording where it's all of us in a room and we got to play together."
The album's first single, Lightning Strike will be available worldwide today (January 5th), watch the video below.
Full album pre-order and a PledgeMusic pre-order will also begin the same day which includes exclusive limited autographed colored vinyl, autographed vinyl test pressings, an exclusive Judas Priest t-shirt and an extremely limited number of Judas Priest autographed guitars.
Firepower track listing:
1. Firepower
2. Lightning Strike
3. Evil Never Dies
4. Never The Heroes
5. Necromancer
6. Children of the Sun
7. Guardians
8. Rising From Ruins
9. Flame Thrower
10. Spectre
11. Traitors Gate
12. No Surrender
13. Lone Wolf
14. Sea of Red
For more information, visit judaspriest.com.