JUDAS PRIEST RELEASE "FIREPOWER" AND "SPECTRE" MUSIC VIDEO TODAY, PLUS ANNOUNCE NYC SIGNING AND POP-UP STORE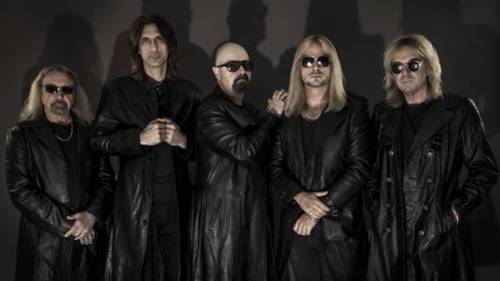 Not only is Judas Priest's latest studio triumph, Firepower, out today, as well as a new video for one of the album's standout tracks, Spectre (see below), but there is additional exciting news. Judas Priest fans from around the northeast area will be able to meet the band at a New York City CD signing, there will also be an exclusive Judas Priest pop-up store at the same location, as well. Starting on March 9that 10am, if you purchase the new Judas Priest album Firepower at Sony Square NYC (25 Madison Avenue in New York City), you will receive a wristband that will grant you access to the special event on March 19th at 6pm. Wristbands are limited and will be distributed on first come first serve basis. This will be the only opportunity to meet the band while they are in the US. No posed photos allowed, and the band will sign copies of the new the album purchased during street week at the Sony Square NYC. Also please note, Sony Square NYC only accepts credit cards.
The Judas Priest pop-up store will also be at Sony Square NYC – located in the gallery at Sony Square NYC (25 Madison Avenue in New York City) from March 9-19. Featured items include a gallery of rare band photos, a display of historic Judas Priest stage outfits, Judas Priest lyric sheets handwritten by Rob Halford, and other Judas Priest surprises. For sale at the pop-up store will be the brand-new album 'Firepower,' as well as the band's entire vinyl catalog and authentic Judas Priest merchandise.
Set for release today (March 9th) via Epic Records – Firepower is comprised of fourteen tracks of pure and highly inspired metal. And to mark the occasion Priest (singer Rob Halford, guitarists Glenn Tipton and Richie Faulkner, bassist Ian Hill, and drummer Scott Travis) has reunited with producer Tom Allom (the man behind the board for all of the band's releases from 1979-1988, including such stellar classics as Unleashed in the East, British Steel, Screaming for Vengeance and Defenders of the Faith) and with Grammy Award-winning producer Andy Sneap also helping to raise the sonic bar even higher.
"Tom Allom has got this classic metal thing," explains Halford. "And Andy is a bit more of a 'modern metal producer' but his thinking is a little bit different to Tom's. And I think to get this balance between that classic old school metal to what Andy's world is was just a remarkable coalescence." "Tom Allom has been with us since 1979, so his knowledge of ourselves and our music in general is immense," adds Hill. And according to Travis Priest returned back to a recording method that worked incredibly well on the band's earlier classics – "We went back to the organic way of recording where it's all of us in a room and we got to play together."
With the impending arrival of Firepower, the Spectre video, its ensuing tour (which begins March 13th in Wilkes-Barre, Pennsylvania), and the NYC signing and pop-up store, March is shaping up to be the month of Judas Priest.
Firepower track listing (click on highlighted titles to hear songs):
1. Firepower
2. Lightning Strike
3. Evil Never Dies
4. Never the Heroes
5. Necromancer
6. Children of the Sun
7. Guardians
8. Rising from Ruins
9. Flame Thrower
10. Spectre (see above)
11. Traitors Gate
12. No Surrender
13. Lone Wolf
14. Sea of Red
Judas Priest 2018 Firepower tour dates;
Mar 13: Wilkes Barre Mohegan Sun Arena At Casey Plaza, PA
Mar 15: Youngstown Covelli Centre, OH
Mar 17: Uniondale Nassau Coliseum, NY
Mar 18: Washington The Anthem, DC
Mar 20: Newark Prudential Center, NJ
Mar 22: Uncasville Mogehan Sun Arena, CT
Mar 23: The Palladium Worcester, MA
Mar 25: Ottawa The Arena At TD Place, ON
Mar 27: London Budweiser Gardens, ON
Mar 28: Oshawa Tribute Communities Centre, ON
Mar 30: Rama Casino Rama, ON
Mar 31: Detroit Masonic Temple, MI
Apr 3: Milwaukee Riverside Theater, WI
Apr 5: Green Bay Resch Center, WI
Apr 8: Bloomington Grossinger Motors Arena, IL
Apr 10: Casper Events Center, WY
Apr 11: Loveland Budweiser Events Center, CO
Apr 15: Kent ShoWare Center, WA
Apr 17: Portland Veterans Memorial Coliseum, OR
Apr 19: San Francisco The Warfield, CA
Apr 22: Los Angeles Microsoft Theatre, CA
Apr 24: Phoenix Comercia Theatre, AZ
Apr 26: Tulsa BOK Center, OK
Apr 28: Dallas Bomb Factory, TX
Apr 29: Sugarland Smart Financial Centre, TX
May 1: San Antonio Freeman Coliseum, TX
For more information, please visit judaspriest.com.