JON BON JOVI ON THE RICHIE SAMBORA SPLIT, "WE WERE IN CALGARY…[HE] JUST DIDN'T SHOW UP AT THE SHOW…AND WE HAVEN'T SEEN HIM IN PERSON SINCE"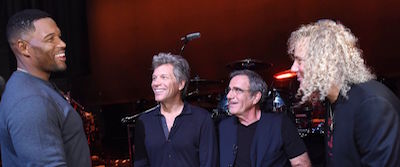 Kelly McCarthy of ABC News reports:
After 33 years and 130 million albums sold, Jon Bon Jovi is not slowing down.
"Writing a song, to me, is the closest thing that I'll ever know to immortality because it's something that's going to last forever," he said in an interview with Good Morning America co-anchor Michael Strahan.
The band is coming out with a new album, This House is Not for Sale, which took three years to write, and is the first without original lead guitarist Richie Sambora, who left the group unannounced in 2013.
"Everyone says, 'Well, what happened?' We were in Calgary. The last album was entering the charts at No. 1. We're sold out every single night. It's show No. 21, and the short of it is, Ritchie just didn't show up at the show," Bon Jovi said. "And we haven't seen him in person since. There was no fight. There was no money. There was nothing I swear in my whole career, and he'll tell you the same thing. So we went on…"
…The album title, This House is Not for Sale, is meant to evoke "integrity," Bon Jovi explained.
Despite their success, the group said there was no guarantee a song would become a hit.
"Living On a Prayer almost never made it," said [drummer Tico] Torres.
"Ritchie had to tell me, 'You're outta your mind,' yeah, yeah, yeah," Bon Jovi recalled.
…The singer has [also] been busy off-stage with the Jon Bon Jovi Soul Foundation's restaurant Soul Kitchen, a passion project for Bon Jovi's.
The farm-to-table restaurant, once a former auto shop, has dished out 59,000 meals to both paying and non-paying customers in need of assistance through what he calls "meal volunteers."
"Our model is what we call 'pay it forward.' So if you were to come in, and you want to directly affect change, you take our pay-it-forward card, which is placed on the table with what the model of the restaurant is. And you leave a $20. It covers your meal, and it covers a meal for somebody who can't put down the same money," he said.
People can go in, work in the gardens, bus a table or wash dishes to actively participate in the pay-it-forward eatery…
Read more at ABC News.
In other Bon Jovi news, the band recently announced their This House Is Not For Sale 2017 tour dates. Click here to view their tour itinerary.
source: abcnews.go.com/Entertainment