"BON JOVI: THE STORY" TO BE RELEASED THROUGH STERLING IN NOVEMBER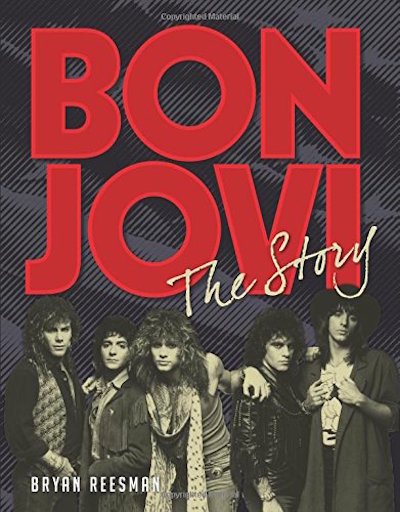 With their catchy hooks, good looks, and irresistible pop-metal sound, Bon Jovi became one of the bestselling bands of all time. Bon Jovi: The Story (Sterling, November 2016) by Bryan Reesman is the first fully illustrated, comprehensive book paying tribute to the mega-popular group from the beginning in 1983—soon after shooting to stardom with the release of their multiplatinum third album Slippery When Wet, which celebrated it's 30th anniversary this August—to the present day.
This is also the first biography to include the early days of Bon Jovi through the words of people who were there—including early bandmates and associates like Jack Ponti, Wil Hercek, Bill Frank, and Bruce Stephen Foster. There are 25 sidebars
throughout, covering solo and side projects, major collaborators like Desmond Child and Wayne Isham, the Slippery When Wet cover debate, the band's Moscow festival performance, Jon Bon Jovi's philanthropy and acting, the rise of tribute bands, and more.
Containing over 35 new interviews with music luminaries like Judas Priest frontman Rob Halford, ex-Scorpions drummer Herman Rarebell, Nickelback bassist Mike Kroeger, music mogul Derek Shulman, and media personality Eddie Trunk and more than 130 color photographs, this unofficial music biography is a must-have for every Bon Jovi fan.
Veteran entertainment journalist Bryan Reesman has test driven a Corvette with Rob Halford, visited Lemmy's apartment, and interviewed celebrities like Oprah Winfrey and Hugh Jackman on camera. He has contributed to The New York Times, Playboy, Grammy, American Way, Inked, and over 100 other media outlets. He's written liner notes for rock icons like Korn, Judas Priest, Black Sabbath, and AC/DC. A decade long voting member of the Recording Academy, Bryan has contributed to six books, including The Art of Metal (Voyageur), Music Producers (Hal Leonard), and Classic Rock Posters (Sterling).
Pre-order at Amazon.