BEASTO BLANCO TO RELEASE SELF-TITLED SOPHOMORE ALBUM ON NOVEMBER 25TH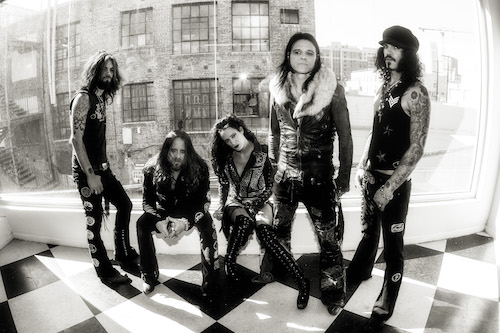 Beasto Blanco, the band fronted by long time Alice Cooper bassist Chuck Garric, will release their self-titled, full-length second album on November 25th through Rat Pak Records.
Beasto Blanco is the follow up to the bands critically acclaimed 2013 release Live Fast, Die Loud (Rat Pak Records) which was endorsed by the likes of movie actor Johnny Depp, Iron Maiden drummer Nicko McBrain, producer Bob Ezrin, and many more. The effort, which was produced by Ryan Greene (Alice Cooper/Lita Ford/Mr. Big), features 11 new songs and an amped-up cover version of Alice's hit song Feed My Frankenstein that also features Alice's daughter and fellow Beasto band mate Calico Cooper. The album is currently available for pre-order at the Rat Pak Records website.
The first single from Beasto Blanco, the band's version of Feed My Frankenstein, can be heard on the Nights With Alice Cooper radio show, which is syndicated on over 100 stations worldwide. The song can also be heard at 15,000 AMC, Regal, Cinemark and NCM movie theaters in the United States throughout the month of November.
Influenced by bands such as White Zombie and Motörhead, Beasto Blanco's all new 12-song, sophomore release is a potent mix of heavy riffs, driving bass and melodic choruses. "I'm very proud of this release" says Chuck Garric, "This new album showcases the bands evolution as songwriters and our unity as a musical force" and Calico Cooper adds "This record is like a baseball bat to the chest that you want more and more of".
The track listing for Beasto Blanco is:
1. Buried Angels
2. Grind
3. Feed My Frankenstein (Alice Cooper cover)
4. Carcosa
5. Death Rattle
6. Dark Matter
7. Sadhana
8. I Rise
9. Machine Girl
10. Honey
11. Blind Drive
12. Damnation
Beasto Blanco will embark on a 2016/17 Fall/Winter tour starting in November, that includes a string of U.S headline dates, as well as an arena tour of Europe with German Hard Rock heavyweights Boshe Onkelz. They return home to the U.S for another run of headline dates that will conclude with performances on the 2017 Monsters of Rock Cruise in February.
November:
4 San Diego, CA Brick By Brick
5 Tucson, AZ Tucson EXPO
10 Hollywood, CA Whisky A Go Go
11 Las Vegas, NV Vamp'd
January:
25 Moline, IL Rascals
26 Nashville, TN Basement East
27 Atlanta, GA 120 Tavern
28 Birmingham, AL The Nick
February:
2nd-7th Miami, FL Monsters Of Rock Cruise
For more information, please visit:
Official Website
Facebook
Twitter