ROB HALFORD SAYS THAT JUDAS PRIEST ARE WRITING MUSIC FOR THEIR NEXT ALBUM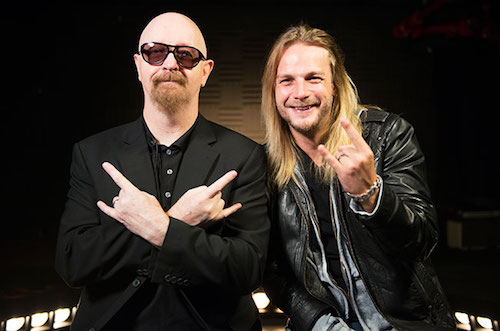 Keith Valcourt of the Washington Times interviewed the Metal God, Rob Halford and Judas Priest guitarist, Richie Faulkner. Excerpts from the interview appear below.
Question: What made you get involved with Rock and Roll Fantasy Camp?
Rob Halford: For us it's bigger than the music. It is very much an experience that brings a lot of skills and discoveries about yourself together. In that respect, it also enables you to learn that being in a band is a lot tougher than sitting around and playing guitar in your bedroom. You really have to try and find a way to communicate, to respect each other's opinions and ideas, to be able to fight for something you feel is better than somebody else's idea. It's a lot of things other than the music. I think that's the thing that draws us to it.
Q: What advice do you give young rockers?
Richie Faulkner: Practice. Listen. Use you ears. And as Rob said, that team effort. You can learn your instrument in your room, but being in a band is more than playing your instrument. Listen to other people. Respect the other people in the band, and work together to create something that is larger than the sum of its parts. And have fun.
RH: You gotta have fun. Even now we have fun onstage.
RF: Too much sometimes.
RH: We can look at each other and say, "How cool is this?!" Also, never lose perspective on where you are and what you've got. And how you got it. Don't put yourself on a pedestal. Because it's very easy for someone to knock you off. It's balance.
Q: What do you guys get out of being here?
RH: It's making new friends, helping people realize something that could be very, very important to them. And also learning something about yourself as a musician. Because we are looking at these rock 'n' roll campers, and we know what is going on in their minds because we've been there.
RF: It's also giving back to the community that put us all there in the first place. Priest wouldn't be here without the support of the fans. As soon as I joined the band, I got it straight away. Especially in my situation, since I've only been here five minutes. I was a fan.
Q: Rob, what part has sobriety played in your longevity?
RH: Without it? Oh, I'd be dead. Literally, I would be dead. I wouldn't be talking to The Washington Times now. I wouldn't be here. The place where I got to, the next step, was lost. I love people. I love being in a band. I love making music. I had to figure out that was way more important than being addicted.
Q: What is next for Judas Priest?
RF: We're writing a new record this year. As we speak, really. We have already had a writing session in England earlier this year. We have another one coming up later this year. The focus is on a new record.
RH: Then road work to support the record. That's the life really isn't it? You write. You record. You play. And it never grows old.
Read more at the Washington Times.
source: washingtontimes.com