GUITARIST ZAKK WYLDE TO APPEAR AT SELECT U.S. GUITAR CENTERS FOR FAN MEET & GREETS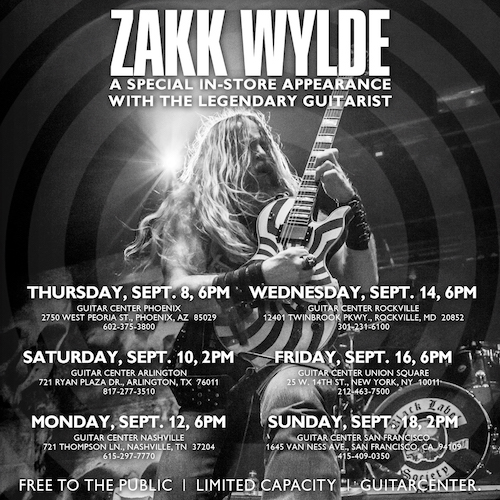 Zakk Wylde has announced a select number of meet and greet appearances surrounding the launch of Wylde Audio. Fans will have a chance to meet the metal icon in-store and test out his new line of Wylde Audio guitars and more. Join Guitar Center and Wylde Audio for a special in-store appearance with the legendary guitarist.
Wylde chose to join forces with Guitar Center on a new line of guitars from his new company because he admired their commitment to encouraging new talent and supporting musicians of all skill levels and genres. Wylde's new line of masterfully crafted guitars includes three unique models (Odin, Viking and Warhammer) that are available at Guitar Center stores and online. To celebrate, the former Ozzy Osbourne guitarist and Black Label Society founder is heading out on the road this September to meet with fans at select Guitar Center stores across the country.
Don't miss your chance to meet with one of hard rock's most influential guitar players.
Zakk Wylde recently debuted a new music video for his latest single Sleeping Dogs featuring Slipknot/Stone Sour frontman Corey Taylor. The track has gone on to become the most successful active rock radio single of Wylde's career reaching as high as #22 in the U.S. and #11 in Canada. Directed by long time collaborator Justin Reich, the video can be seen below.
Zakk Wylde is currently on the tail end of a a U.S. and Canadian tour in continued support of his new LP, Book Of Shadows II which will come to an end at The Fonda Theater in Los Angeles this Friday, September 3rd. Tickets are on sale now here, including VIP upgrades in all markets. Tyler Bryant & The Shakedown and Jared James Nichols will serve as support.
Wylde will continue touring through the end of October, this time with Zakk Sabbath serving as support for Clutch. Zakk Sabbath includes himself, bassist Blasko (Ozzy Osbourne, Rob Zombie) and drummer Joey Castillo (Danzig, Queens Of The Stone Age) performing only Black Sabbath songs. Click here for more info.
Zakk Wylde Guitar Center meet and greet dates:
Sept. 8th at 6pm: Guitar Center Phoenix
Metro Square, 2750 W Peoria Ave, Phoenix, AZ 85029
Sept. 10th at 2pm: Guitar Center Arlington
721 Ryan Plaza Dr, Arlington, TX 76011
Sept. 12th at 6pm: Guitar Center Nashville
One Hundred Oaks Mall, 721 Thompson Ln, Nashville, TN 37204
Sept. 14th at 6pm: Guitar Center Rockville
12401 Twinbrook Pkwy, Rockville, MD 20852
Sept. 16th at 6pm: Guitar Center Union Square
25 W 14th St, NYC, NY 10011
Sept 18th at 2pm – Guitar Center San Francisco
1645 Van Ness Ave, San Francisco, CA 94109
Free to the public and limited capacity – arrive early.
For more information about Book of Shadows II, please go here.