GUITARIST MICHAEL SCHENKER DISCUSSES HIS FORTHCOMING "LIVE TOKYO" RECORDING, AND HIS CAREER, SAYING, "MY WHOLE LIFE HAS BEEN AN INCREDIBLE JOURNEY"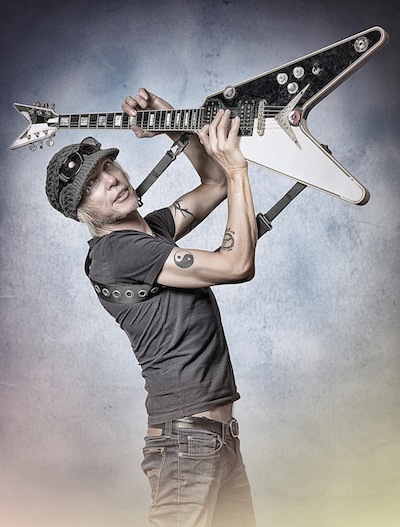 Kim Allegrezza of AXS spoke with legendary guitarist Michael Schenker. Portions of the interview appear below.
AXS: We have been listening to Michael Schenker Fest Live Tokyo all week, watching the DVD too. We are really enjoying it. It is guitar heaven! How did it feel getting to perform with all those guys again?
Michael Schenker: It was fantastic. We started about three years ago, we had Graham Bonnet opening up for MSG. Then we decided to have him do a couple of songs with us. I was playing all my original music from the past, all my most popular Michael Schenker Group music and I thought wouldn't it be great if I could get Robin and Graham and Gary on stage with me and make The Michael Schenker Fest. I've been in celebration mode, it is the third part of my life. The first part of my life was unconsciously developing things in the 70s that were later used and commercialized by other bands in the 80s. In the middle part of my life I withdrew. Now I am in the place where I am consciously enjoying what I unconsciously created in the first part of my life. I can see the three stages. I can mark them all. The second part of my life was about experimenting and developing as a person. It was out of that, in the third part of my life, I understand things now. You know, who I am and what I did. People seem to be ready to receive it now too, the celebration is growing by the minute. It seems like it is picking up now and we are going to the next level. We are already getting offers from the UK and Germany for dates. We even have someone investigating a tour in the United States. It is looking really good too. So we will do this thing in Europe in October, November and maybe get to you in February or March. It is a huge undertaking and there is a lot that goes into putting the shows together. The promoters need time to do things the right way. But everything is developing and we are moving forward. I am so happy I decided to do the DVD. The venue in Tokyo was sold out immediately and it is such a beautiful venue, I am just so glad I did it. Because if I didn't record it nobody would have, it would just be a memory or a clip on YouTube.
AXS: Between UFO, The Scorpions and your solo stuff you have had quite the career. What are you most proud of or what stands out as a favorite memory?
M.S.: I am just very happy in general as a musician. My whole life has been an incredible journey. I've been able to taste everything there is and as a result my life's design, my life's structure was meant to be in three stages. I think everybody has a custom-made set of circumstances, not everyone recognizes this. I am a very conscious person so I can see the steps very clearly. I could understand what was happening. I am very happy with everything that has happened. You have to have those challenges in life to be your teachers. Without them you might as well not even come to this planet. You have to have the challenges, they are the way to build muscle in your head. It is an amazing set up, this so-called world. The older you get you can look back over things with common sense and see how it was all put together, everything starts clicking. You can actually understand what happened in your life and why it happened. It is very interesting.
Read more at AXS.
Michael Schenker Fest "Live" Tokyo will be released on March 24th. It was filmed and recorded at Tokyo's International Forum August 24th, 2016 and will be available on 2 CDs, 2 CD/DVD combo, LP, DVD, Blu-Ray and digital.
source: axs.com