"MICHAEL SCHENKER FEST LIVE TOKYO" FEATURING THE ORIGINAL MSG VOCALISTS GARY BARDEN, GRAHAM BONNET AND ROBIN MCAULEY TO BE RELEASED ON MARCH 24TH, AVAILABLE ON 2CD, 2CD+DVD COMBO, LP, DVD, BLU-RAY, DIGITAL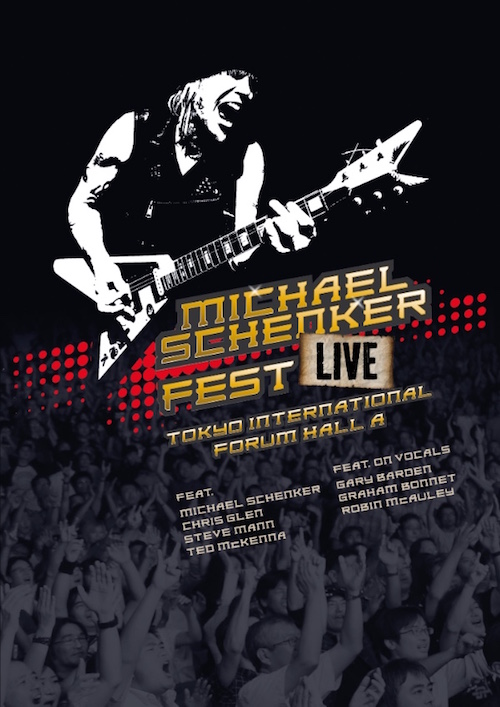 Michael Schenker, one of music's greatest rock guitarists, will release Michael Schenker Fest Live Tokyo – a stunning new live recording and filmed concert released by inakustik on CD, DVD, Blu-ray and Digital on Friday 24th March 2017.
Filmed and recorded at Tokyo's International Forum on August 24th, 2016, this historic concert features guest appearances from some of the greatest rock vocalists who have worked with Schenker over the years including M.S.G.'S Gary Barden, Graham Bonnet, and Robin McAuley of the McAuley Schenker Group.
"It's been a long time since M.S.G. – Live At Budokan," says Schenker.
Like a miracle Michael Schenker returns to Japan with his past original singers from the '80's to celebrate the Michael Schenker Fest Live Tokyo with Barden, Bonnet and McAuley at the amazing Tokyo International Forum. 5000 fans witnessed an anthology moment of quintessential hard rock music of the highest calibre.
Says Schenker, "It's a miracle that after all these years, something like this took place with the original band members of "M.S.G.". Being able to go back to those days and celebrate the music is an exciting experience for us, as well as for old and new fans. To being able to re-experience, and for the new audience to get a feel of what it was like, is incredibly enjoyable."
Continues Schenker, "It's an amazing feeling to have all of my M.S.G. Family from the '80's performing together and especially with Graham Bonnet, who I never got to play any concerts after our Assault Attack album that was originally released in 1982. Fortunately, being able to have the participation of original M.S.G. members such as Gary Barden, Chris Glen (bass) and Ted McKenna (drums) being part of it, and somehow, to perform with Robin McAuley and Steve Mann (guitar, keyboards) again as well, is pretty awesome."
The Band:
Michael Schenker – Lead Guitar
Ted McKenna – Drums
Steve Mann – Guitar, Keyboards
Chris Glen – Bass
The Vocalists:
Gary Barden
Graham Bonnet
Robin McAuley
"It was just one enjoyable event from beginning to end," says Schenker. "Seeing those happy, excited fans right from the beginning before the show even started, was incredible. It was like Budokan all over again."
Schenker remains enthusiastic and overjoyed at performing Schenker Fest with Barden, Bonnet and McAuley all under the same roof in Tokyo.
"It's wonderful how we all got on with each other. It felt incredibly natural, as if it was always like this. Right from the start of rehearsal, the chemistry was great. No problems, just pure fun."
Michael Schenker Fest Live Tokyo track listing:
1. Intro: Searching For Freedom
2. Into The Arena
3. Attack Of The Mad Axeman ft. Gary Barden
4. Victim Of Illusion ft. Gary Barden
5. Cry For The Nations ft. Gary Barden
6. Let Sleeping Dogs Lie ft. Gary Barden
7. Armed And Ready ft. Gary Barden
8. Coast To Coast
9. Assault Attack ft. Graham Bonnet
10. Desert Song ft. Graham Bonnet
11. Dancer ft. Graham Bonnet
12. Captain Nemo
13. This Is My Heart ft. Robin McAuley
14. Save Yourself ft. Robin McAuley
15. Love Is Not A Game ft. Robin McAuley
16. Shoot Shoot ft. Robin McAuley
17. Rock Bottom ft. Robin McAuley
18. Doctor Doctor ft. Gary Barden, Graham Bonnet, Robin McAuley
Michael Schenker Fest Live Tokyo is available in the following formats:
Physical:
2 CD
2 CD + DVD Combo
Vinyl LP
DVD
Blu-ray
Digital:
Hi-Res download
Download
Stream
Watch the official trailer for Michael Schenker Fest "Live" Tokyo below.
For more information visit:
Official Website
Facebook
Twitter