GUITARIST STEVE BROWN DISCUSSES TRIXTER, DEF LEPPARD, DANGER DANGER AND THE FIRST MUSICAL IDOL HE MET WHEN HE ENTERED THE BUSINESS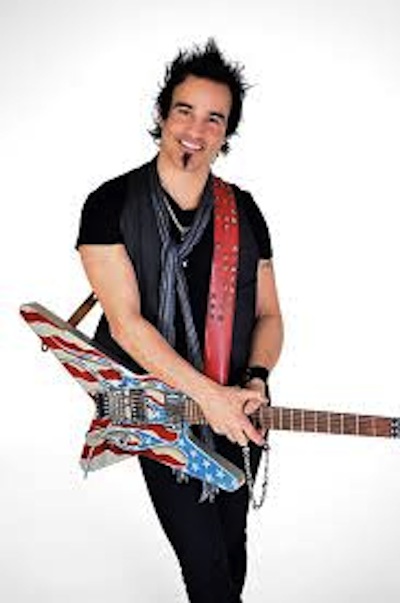 Ruben Mosqueda of Sleaze Roxx spoke with guitarist Steve Brown (Trixter). Highlights from the interview appear below.
Sleaze Roxx: I remember seeing Trixter was all over Metal Edge magazine, which focused on the hard rock acts of the time. I remember hearing rumors that Trixter was a fabricated band like The Monkees or something. Obviously, in that era, we didn't have internet and our resources were limited.
Steve Brown: [Laughs] Man, that's the furthest thing from the truth [laughs]! Trixter is a band that I started when I was 12 years old in 1983. We had been playing clubs for years before we got our record deal. We paid our dues, but there were a lot of bitter people that discounted us because of our ages. People were like "Who are these guys?! They're 18 years old and they have a record deal?!" Then we got regular rotation on MTV and we had a #1 video on MTV, then we toured with Poison, then Scorpions. We were definitely not a 'fabricated' band in any way, shape or form.
Sleaze Roxx: Another thing that was floating out there about Trixter is that you guys were in your mid-20s but were claiming to be 18.
Steve Brown: I think people didn't think kids could play instruments? I think that comes with the territory when you put yourself out there like that you know? I found that people that don't want you to succeed will got out of their way to say whatever it takes to bring you down.
Sleaze Roxx: Steve, you were also part of a Van Halen tribute act. Was that something you put together or was it already in place when you came into the picture?
Steve Brown: It was already established. I played in a Van Halen tribute band with Ricky McCoy who played in Fan Halen and The Atomic Punks for a little bit. I really think that Ricky is just as good as Ralph Saenz or is it Michael Starr? Anyway, Ricky called me up to see if I wanted to do the gig and Van Halen is my favorite band in the world so why not? We played a lot of really cool shows and it was such a blast doing it.
Sleaze Roxx: So how did the [Def] Leppard gig come about? Does the phone ring and they ask you to audition?
Steve Brown: Not at all. Those guys are like family to me. Most people don't know this but I go back with Def Leppard to about 1988 when they were touring behind Hysteria. Phil Collen is a like a brother to me. When Vivian [Campbell] was diagnosed with cancer in 2013, Phil said to the Leppard guys, "I have the guy that can step in while Viv is undergoing treatment. Let's call Steve." I was also friends with Joe [Elliott] and I think it helped that he was a fan of one of my other band 50 Ft Ringo. I think he knew I had the voice to do it. I truly believe that I got the gig not because of my ability as a guitarist but more because of my vocal ability. So I got the call in early 2013. I learned the entire set and fine tuned my parts and began playing some gigs with them in 2014.
Sleaze Roxx: What was the most difficult song to learn for you?
Steve Brown: I will say this; the Def Leppard catalog is not the easiest thing to learn. There's some very intricate guitar parts, very unique guitar parts. Steve Clark wrote things in shapes and boxes that I haven't played before. So it was challenging for sure. I have said this to friends of mine that are guitarists, "Man, the Leppard gig isn't as easy as you think it is." It was a challenge to dig in and learn the Mutt Lange/Def Leppard collection. They are not your typical 'cookie cutter' rock and roll band. They have an unique way of writing songs.
Sleaze Roxx: And most recently you performed on The Monsters of Rock Cruise with Danger Danger.
Steve Brown: I did. In fact, I played a couple of gigs with them last year. Let's just say that I will probably wind up doing a lot more with them in the future.
Sleaze Roxx: So that tells me that you're going to be a permanent fixture in the band?
Steve Brown: [Pauses] Well, we'll see how it goes but they know I'm willing to do it. I love that band and Bruno [Ravel], Steve [West] and Ted [Poley] are like brothers to me.
Sleaze Roxx: Danger Danger is an incredibly underrated band.
Steve Brown: I agree. Much like [Def] Leppard, their songs are trickier than you think they are. It was a blast studying the Danger Danger set because it's some incredible melodic hard rock.
Sleaze Roxx: You remember the first idol that you met?
Steve Brown: Oh, the first full on "rock star" that I ever met was Jon Bon Jovi. He was a hero of ours and he later became a close friend. He helped us out early in our career. Still to this day, I use Jon as a benchmark as to how to be. I remember Jon used to call us and give us pointers. Jon was actually instrumental in getting us on the Scorpions tour in '91 as Doc McGhee was also managing the Scorpions at the time. Jon put in a good word for us and I remember the first night of the tour running into Rudolf Schenker and he said "You guys remind me of Bon Jovi. You're young and hungry!"
Next after that it was meeting Eddie Van Halen at the NAMM in '91. I got to spend some time with him. We became fast friends. In '92, we were making the second Trixter record ['Hear'] and I got invited to his Malibu house where I got to play volleyball with him and drink beer [laughs]! It's unbelievable and we've had a lot of great times together.
Read more at Sleaze Roxx.
source: sleazeroxx.com