GUITARIST JOHN 5 DISCUSSES HIS NEW ALBUM, ALONG WITH, WHAT IS WAS LIKE TO WORK WITH MUSICIANS DAVID LEE ROTH, ROB HALFORD, PAUL STANLEY, AND OTHERS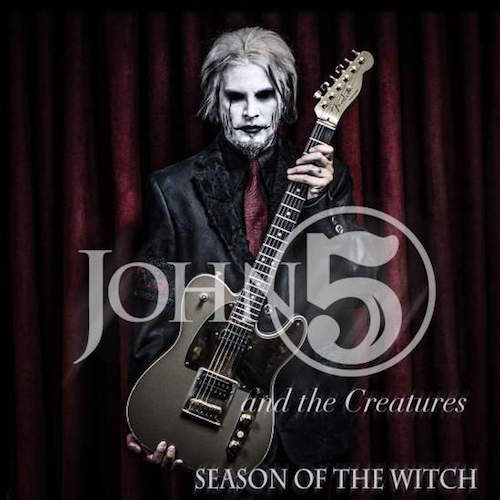 Greg Prato of the Long Island Pulse Magazine spoke with guitarist John 5. Portions of the interview appear below.
Pulse: Let's discuss Season of the Witch.
John 5: This album is completely different from the previous albums. Times have changed so much—I have a 13-year-old son, and I watch what he and his friends do, and they just watch music nowadays. Meaning, when they want to listen to music, they go on YouTube. Even downloading now is a thing of the past; it's all streaming and YouTube. What I did with this record is I made a new song and video once a month for about six months because everyone is going to "cherry pick" anyways. When it comes out on iTunes, they just pick the songs they want so…I gave the fans a new song and video. With all of them gathered up, it's well over a million views or two million. And there is no way that anyone is getting a million spins on radio. Nobody. It's a different time. I did heavy stuff, western swing…the album goes in all different styles of music. It's a lot of fun. There's a little something for everybody. That's just who I am—I love all these different styles of music. And it's from the heart. I think fans really latch onto that.
Pulse: In addition to metal, you've done a lot of country/chicken-pickin' type guitar work.
John 5: That's what I grew up on. And it's really challenging to play. If anybody ever puts down country music or bluegrass music or western swing, it's fine, you might not like that music. But it is very, very, very challenging to play.
Pulse: Let's discuss memories of some of the artists you've worked with, starting with David Lee Roth.
John 5: One of my heroes. Van Halen was one of—and still are—my heroes. It was an amazing experience and one of the most challenging, for sure. Because when we go into the studio, he says, "If you can't do it in two takes, you can't do it." I love him.
Pulse: Rob Halford.
John 5: Maybe one of the greatest vocalists ever. He was so professional, too. He's been doing it so long and he knew what to do and what not to do. This guy knew all the answers. It's like if you're going to a certain place, you know all the shortcuts, and you know how to get there, because you've driven there a million times. It was a real pleasure.
Pulse: Paul Stanley.
John 5: One of my heroes. I love Kiss… It was really great to be a part of Kisstory. And I've known Paul and these guys forever. But to be on record really was a huge accomplishment in my life. And I did it with Ace Frehley, too, and was on his last record. Being a part of that is something very special to me.
Read more at Long Island Pulse Magazine.
To learn more about John 5's forthcoming new album, Season of the Witch, go here.
source: lipulse.com