JOHN 5 AND THE CREATURES' "SEASON OF THE WITCH" TO ARRIVE MARCH 3RD, NORTH AMERICAN TOUR DATES ANNOUNCED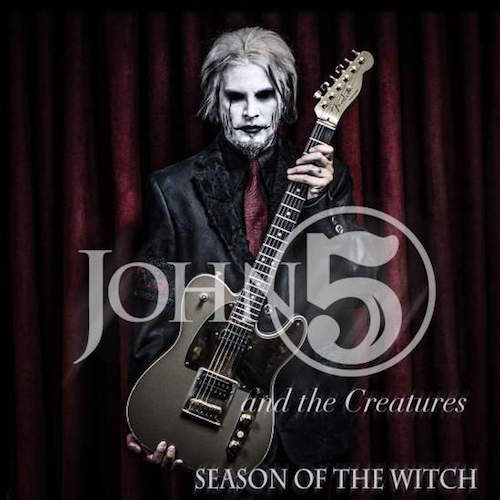 World-renowned guitarist JOHN 5 recently announced the release of his upcoming eighth full-length solo album, entitled Season Of The Witch. The fully-instrumental album, which features his band The Creatures (bassist Ian Ross and drummer Rodger Carter), is set to hit stores on March 3rd. The album features experimentation with various genres – including western swing, Spanish flamenco, heavy metal and more – thoroughly showcasing JOHN 5's diverse virtuosic abilities. Pre-orders will become available via iTunes in early February.
John 5 took a different approach with the release of Season Of The Witch, choosing to share his new music with fans throughout 2016 by releasing several tracks individually in the form of various music videos. Tracks/videos released include the fast-paced Black Grass Plague, downtempo, introspective Behind The Nut Love, hard rocking Now Fear This, jazz fusion marathon Here's To The Crazy Ones (featuring a bit of "monkeying around"), heavy metal claymation shredfest Making Monsters, and last but not least, the whiskey-soaked Hell Haw. The videos have garnered nearly a million views, collectively.
"Since music is so visual nowadays, I thought these videos would be the best way to get my music out there, and it seems to have worked – now everybody knows the songs on the record,"states John 5."I put so much work into this record with the videos, the artwork, the songwriting and the playing – out of my catalog, this is by far my favorite solo record."
Season Of The Witch track listing:
1) Book of Spells
2) Black Grass Plague
3) Guitars, Tits and Monsters
4) Now Fear This
5) Behind the Nut Love
6) Making Monsters
7) Dr. Evil's Spook Show
8) Here's To The Crazy Ones
9) The Macabre
10) Triple D
11) Hell Haw
12) Ode to Jasper
13) Season Of The Witch
Kicking off the same day as the album release, John 5 and The Creatures will embark on a US tour, beginning in Fife, WA. See below for all currently confirmed tour dates, with more coming soon.
John 5 "Season Of The Witch" tour dates:
3/3 – Fife, WA @ Louie G's
3/4 – Everett, WA @ Tony V's Garage
3/5 – Portland, OR @ Star Theater
3/10 – San Jose, CA @ The Ritz
3/11 – Fresno, CA @ Fulton 55
3/12 – San Francisco, CA @ DNA Lounge
3/16 – Fullerton, CA @ The Slidebar Rock-n-Roll Cafe
3/17 – West Hollywood, CA @ Whisky A Go Go
3/18 – Las Vegas, NV @ Vamp'd Rock Bar & Grill
3/19 – San Diego, CA @ Brick By Brick
3/23 – San Antonio, TX @ Fitzgerald's Bar & Live Music
3/24 – Tyler, TX @ Clicks Live
3/25 – Houston, TX @ Scout's Bar
3/26 – Dallas, TX @ Trees
4/11 – Pittsburgh, PA @ Hard Rock Cafe Pittsburgh
4/12 – Cleveland, OH @ The Agora Ballroom
4/13 – Newport, KY @ Southgate House
4/14 – Indianapolis, IN @ Vogue
4/15 – Westland, MI @ The Token Lounge
4/16 – Chicago, IL @ Reggies
John 5 online: