NIGHT RANGER TO RELEASE "DON'T LET UP" ON MARCH 24TH, STREAMING NEW SONG "SOMEHOW SOMEWAY"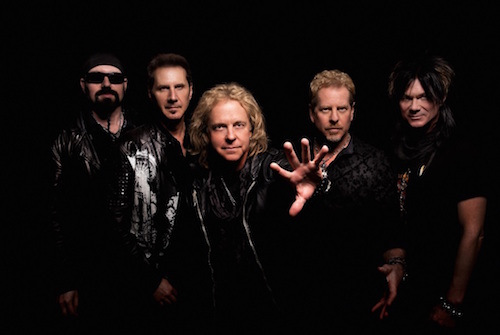 Frontiers Music Srl is proud to announce the release of Don't Let Up, the new studio album from Night Ranger. Don't Let Up is set for a March 24th release. The album will be available in both a standard edition and a deluxe edition (featuring bonus track and bonus DVD – physical format only).
For your first taste of new music from the album, check out Somehow Someway below.
"Somehow Someway is all Night Ranger. It not only captures the spirit of our live shows but also is the essence of who we are and who we have been for the last 35 years…a kick ass American rock and roll band…case closed," says Jack Blades, bassist and vocalist.
Adds Kelly Keagy, drummer and vocalist, "[t]he song Somehow Someway is an up-tempo rocker with an infectious, big guitar lick. Take caution while you're driving in your car, you may find yourself going WAY over the speed limit. Check it out!"
"Our new single, Somehow Someway is a rockin' barnburner up to the standards of our first single, Don't Tell Me You Love Me. This could be a great song to perform live and add to our setlist….Enjoy!!" encourages guitarist Brad Gillis.
To pre-order Don't Let Up and/or stream the first single, please click here, or at the links below:
Don't Let Up Track Listing:
1. Somehow Someway
2. Running Out Of Time
3. Truth
4. Day And Night*
5. Don't Let Up
6. Won't Be Your Fool Again
7. Say What You Want
8. We Can Work It Out
9. Comfort Me
10. Jamie
11. Nothing Left Of Yesterday
*Bonus audio track on Deluxe Edition
*Bonus DVD: Band Interviews; Running Out Of Time (video); Day And Night (Video)
With more than 17 million albums sold worldwide, over 3000 live shows performed, and more than 1 billion in radio audience, Night Ranger has both epitomized and transcended the arena rock sound and style of that era and beyond. With songs that have significantly impacted popular culture and continue to expand their ever-growing fan-base, Night Ranger is proof that powerful songs, plus accomplished musicians is the perfect formula for continued success.
Night Ranger has earned widespread acclaim, multi-platinum and gold album status while leaving their indelible mark on the music charts with a string of best-selling albums (Dawn Patrol, Midnight Madness, 7 Wishes, Big Life and Man In Motion), its popularity fueled by an impressive string of instantly recognizable hit singles and signature album tracks. Producing legendary hits such as Sister Christian, Don't Tell Me You Love Me, When You Close Your Eyes the anthemic (You Can Still) Rock In America, along with Sentimental Street, Goodbye, Sing Me Away, Four in the Morning and more.
The band was also one of the first big "video" bands, with over ten number one videos on MTV.
Night Ranger is Jack Blades (bass, vocals), Kelly Keagy (drums, vocals), Brad Gillis (lead & rhythm guitars), Eric Levy (keyboards), and Keri Kelli (lead & rhythm guitars).
For more information on Night Ranger visit:
nightranger.com
facebook.com/nightranger